Multi-Touch on a Hacked Nook Touch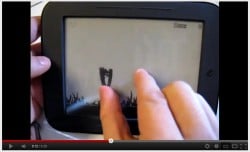 The Nook Touch can refresh the screen nearly fast as LCD screens and it can play video, but it wasn't until last week that it got the ability to support multi-touch gestures. This ereader/tablet is based on the same touch screen tech as the Kindle Touch and Sony Reader, and yet it was the only one which didn't ship with multi-touch.
Luckily for us a hacker over at XDA Forums has just posted instructions on how to enable the feature. It requires a hacked Nook Touch, of course, but the process is ads simple as installing an update.
He's even posted a couple demo videos showing the NT play Angry Birds and read a PDF.  It's impressive.
If you think that's cool, check out this video. It shows the Nook Touch displaying a PDF with both the fast refresh and multi-touch screen hacks.