My Archos Arnova 8 arrives tomorrow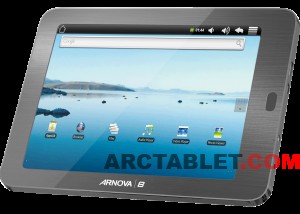 The budget tablet Arnova 8 is now shipping from J&R and on Amazon
. I bought one earlier this week and it should arrive tomorrow.
It's based on an 8″ (800×600) resistive touchscreen, and it has Wifi, 4GB Flash, a microSD card slot, speakers, and a microphone. It's running Android v2.1 on a single core Rockchip CPU.
In terms of price vs specs, this tablet earns a resounding meh. It costs $159, which is okay for the adequate specs.
I'm particularly looking forward to trying the new hacked firmware. Yep, it's only been out for a few weeks and someone has already hacked it. Assuming it works (I break things), this firmware is based on the existing v2.1 and it adds Android Market. There's also a version with v2.2 Froyo in the works.