New Leaked Image Reveals New Interface for the Next Kindle Fire HD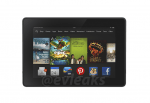 Last week Amazon let us see what the new Kindle hardware looked like, and today we get to see the menus.
@evleaks tweeted a new leaked image this morning, and it shows a new KFHD model. The size and model name isn't mentioned, but as I set here looking at my KFHD I am guessing the leaked image shows the new KFHD 8.9.
My clue was the text menu bar across the top of the screen. Based on the amount of visible text this screen can't measure 7″; the text would be too small to read. The image is below, and as you can see there really isn't much to differentiate it from the current model.
But I did see at least a couple differences. For example, the favorites bar across the bottom is new. On the current KFHD, those icons are concealed in a pop out menu. There's also no sign of the camera found on the current KFHD.
Thanks to Amazon's past leaks, we know that the larger KFHD (codenamed Apollo) is expected to be running Android 4.2.2 on a 2.15GHz Qualcomm Snapdragon 800 CPU. It's going to come with a 2560×1600 resolution screen, 2GB of RAM, Wifi, a front-facing camera that isn't shown in the photo above, an 8MP rear camera, and optional cellular connectivity.
I find it rather interesting that the leaks contradict, don't you? While I would normally label them rumors and disbelieve both, the source of the above image and the source of the leaked specs are both very reliable and thus can be trusted.
How reliable? I'm reporting this as news and not as a rumor, that is how much I trust this source. @evleaks has a track record for accurate leaks from inside sources, and BGR (the source of the leaked specs) has shown in the past that they have inside sources at Amazon.
My guess is that @evleaks was handed a real product image that wasn't proofed before it was circulated. The odds are very good that we will see a nearly identical image on Amazon's website inside of a couple months.
There hasn't been any leaks yet about a specific launch date, but I'm expecting the new hardware to ship a couple days before Kobo's new Arc tablets if not sooner. Kobo has announced a ship date of 16 October, giving us a 1 month window for Amazon's launch event and ship date.