New York City's Free Wifi HotSpots Are Popping Up Across Manhattan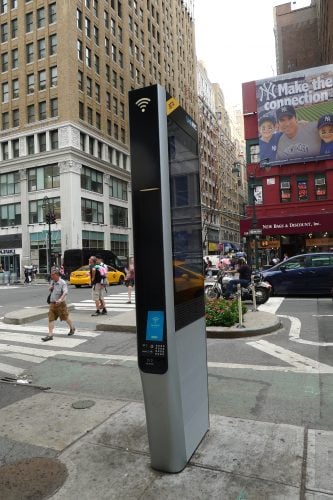 This week finds me in NYC for F&W Media's Writer's Digest Conference, and while I was taking in the steam bath walking around the city today I happened across an old story I'd always wanted to follow up on.
Back in 2014 the City of New York announced a plan to install ten thousand free Wifi hotspots dubbed LinkNYC across the city. The hotspots would provide gigabit internet, free phone service, 911 access, etc.
The first hubs were installed in January, but I didn't stumble upon one when I was in NYC in March.
I only set eyes on one today. (There are supposed to be around 500 installed at this point out of a planned 7,500, which is probably why they are still hard to find.) I was walking down 8th Ave today on my way to the closest White Castle when I encountered four of the monoliths pictured at right.
This 9-foot-tall obelisk offered a USB charging port, a 10″ screen which offered free calls and more or less doubled as a 311 kiosk and a tablet-like internet access point, and a Wifi internet connection which is faster than what I am using in my hotel.
You can't quite see it in the above photo, but the two sides are covered with 55″ screens showing ads (which explains why the internet connection is free):
The Wifi range on the nearest LinkNYC wasn't quite good enough to reach my room which was less than 50 feet away, otherwise I would be using it right now. But I did brave the hot and humid downpour for long enough to confirm that it was faster than what I have in my room right now and faster than what you'd expect to see in a coffee shop or other free Wifi hotspot.
I had no way to test, but it could even faster than than my home connection (cable via Comcast). I briefly used it to stream Amazon video on my Fire tablet, and it was as fast as what I have experienced at home.
And just for fun, I browsed a couple free ebook sites and downloaded a couple ebooks.  (I should have downloaded 1984 and a Cory Doctorow title, but I didn't see the chance for irony until after I was back in my room.)
So tell me, have you had a chance to use it, or another free municipal Wifi network?