Nextbook Elite 10 Coming This Summer – Thin, Light, And Runs Android v4.0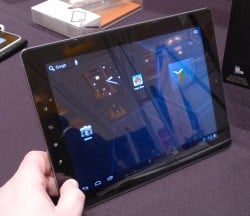 Don't look now, but a B-list tablet company just demoed an A-list product.
I caught up with E-Fun last night, and they let me spend a few minutes playing with the Elite 10. When I wrote about this tablet last week, I called it an iPad competitor. Now that I've put my hands on it I really think it might be one.
It's running on a 1.1GHz dual core CPU, and it has a pair of cameras (2MP & 5MP), Bluetooth, Wifi, HDMI out, and it will ship with the SlideMe app store.  The demo unit didn't have much in the way of software, but I did play around with the browser and Angry Birds. Performance was quite zippy, but that should come as no surprise (because of the dual core CPU).
I was told that the street price will be around $240, and that it was coming out this spring.
That's a great price, but it also brings some compromises. It's using the same 9.7″ screen ( 1024×768) as on the current iPad, and that means it has a lower resolution screen than some high end Android tablets. I also suspect that when tested, the battery life won't measure up to other Android tablets, but I can live with that.
And there's one particular detail that separates the Elite 10 from other premium Android tablets; it doesn't have Android Market yet. But I am told that E-Fun is waiting on approval from Google. They expect to be able to ship the tablet with full Marketplace access as well as the usual Google apps.
But still, it's a pretty zippy tablet for something that costs only half the price of the iPad. I cannot wait to get my hands on one.