Nook App to Come Pre-Installed on Windows 8 Next Year?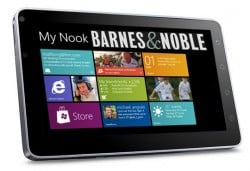 Remember the news from March that B&N and MS had decided to retire the Nook app for Windows 8 and replace it with a Microsoft-built app?
According to my source, plans have changed. That source has told me that starting early next year the Nook app for Windows 8 will be bundled in Windows in select markets.
I obviously cannot tell you who that source is, but I can say that they are located in one of the 30 countries (not counting the US and UK) where Nook Media launched a local ebookstore last November. I can also tell you that my source had been contacted by Anna Blanchard (listed on LinkedIn as the manager for international content acquisition) as recently as this fall.
The timing of the contact is important, for two reasons. For one thing, this shows that B&N and Microsoft may have shifted direction again from that March 2014 SEC filing.
Also, Blanchard is a relatively recent hire at Nook Media; she started in May 2014, following the layoffs earlier this year and preceding the layoff of several managers this week. Yesterday Publishers Lunch reported that several of the old guard at Nook Media have been shown the door, including Theresa Horner, who had joined B&N as the VP of digital content in November 2008 – literally,she was part of the Nook program since before there was a Nook.
On the other hand, it looks like Blanchard is part of the new guard, and will likely still be with Nook Media as it completes whatever transitions it is going through as part of B&N's plans to spin off, sell off, or hit Nook Media over the head and bury it in a ditch somewhere.
Yes, B&N has announced plans to spin off Nook Media and the Nook Press news earlier this week would support that idea, but I am not going to assume with absolute certainty that it is still going to happen. There are too many unanswered questions at this point to say for sure.
Among the unanswered questions are just what happened to the "Microsoft Consumer Reader" which was supposed to replace the Nook app for Windows 8. I was expecting for it to have launched by now, but B&N is still promoting the old Noook app. The new app would look like this:
I also wonder where Microsoft's other reading app, the one for MS Office, went. That leaked last September and was supposed to have a Nook connection, but I can't find any sign that it has seen the light of day.
And how exactly do those missing apps relate to Yuzu, the execrable e-textbook app which Nook Media quietly launched earlier this year?
In short, folks, there is enough uncertainty surrounding Nook Media at this time that today's rumor meets certain standards for plausibility and probability.
B&N was contacted before this post was published. They said: no comment.
Stay tuned.