Onyx Boox AfterGlow 2 Launched – Android 4.2, Dual-Core CPU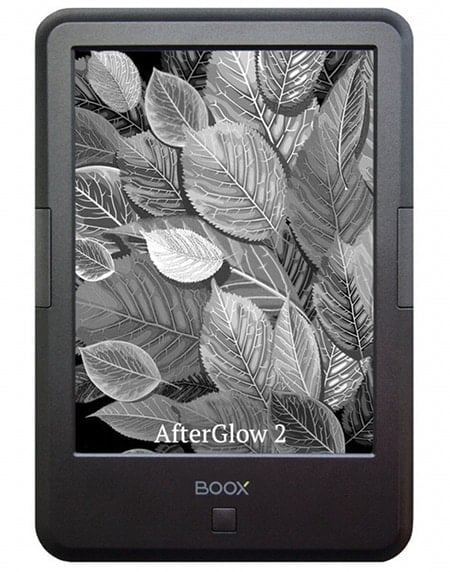 Onyx has just quietly launched a new ebook reader, the Boox AfterGlow 2, and it is available today through Onyx's Polish partner Arta Tech.
The AfterGlow 2 sports a 6″ Pearl E-ink screen, not Carta, but other than that this is some ereader. It runs Android 4.2 Jelly Bean on a dual-core 1.2GHz CPU with 512MB RAM, 4GB internal storage, Wifi, audio, and a microSD card slot. It has both a frontlight and a capacitive touchscreen.
In terms of software, the AfterGlow 2 ships with Googe Play as well as Ivona TTS and the other apps found on the Onyx Boox T68 Lynx, including a web browser, note-taking app, and both of the Mediopolis apps that the Lynx got in an update this week as well as the more than adequate reading app OReader.
The AfterGlow 2 weighs in at 184 grams and measures 8.7mm thin. Its 1.7Ah battery is said to offer up to 8 weeks of battery life. With a price tag of 124 euros, this is not the cheapest ebook reader on the market but it does offer a good value in comparison to the Kindle Paperwhite (which costs 109 euros on Amazon.de).
It also offers features some of us would like to see on more ereaders, like page turn buttons on either side of the screen and a more powerful CPU. And since it ships with Google Play and is sold by a European company, it's also a viable alternative to the Boyue T62.
Are you planning to get one? I'm going to add it to my todo list, but I'm at least a month behind on reviews so i don't know that I'll be able to get to this one soon.
via my competition