Midia Inkphone E-ink Smartphone Now up for Pre-Order – $165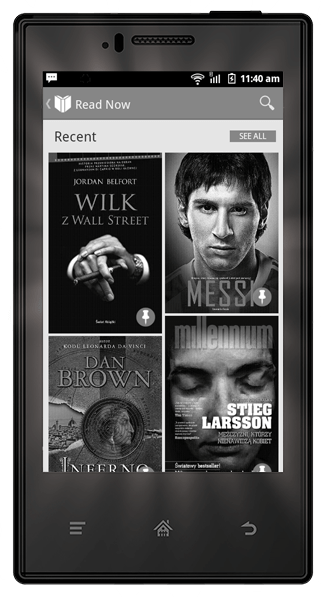 After nearly 2 years of waiting and being told the release was just around the corner, the E-ink Smartphone is finally about to arrive.
The Polish ereader distributor Arta Tech revealed on Wednesday that they have put the Midia InkPhone up for pre-order. Based on the Onyx E-ink smartphone some of us have been lusting after for the past 21 months, the InkPhone sports a 4.3″ E-ink screen.
The retail price is 121 euros plus tax and shipping, and Arta Tech expects to ship after 4 July.
This smartphone runs Android 2.3 Gingerbread on  a single-core 1GHz MediaTek MT6515M CPU with 512MB RAM, a miniscule 512MB internal storage, and a microSD card slot. It ships with Wifi, Bluetooth, and EDGE connectivity. There's no camera.
The Midia InkPhone has been under development for so long that it more closely resembles a budget smartphone than its distant kin, the dual-screen YotaPhone, and just about the only notable feature is its 4.3″ E-ink.
When Onyx first showed off their smartphone, it had a 4.3″ Pearl E-ink screen not too different from the screen on the cheapest Kindle, but thanks to the long development time the Midia InkPhone got the chance to use significantly improved screen tech.
Hands On
The 4.3″ E-ink screen on the Midia InkPhone is based on E-ink's newer Mobius screen tech. Thanks to its plastic substrate, Mobius is is more durable than previous E-ink screens. The screen resolution is 800 x 480, and the Midia InkPhone has both a frontlight and a two-finger capacitive touchscreen.
Weighing in at 120 grams, the InkPhone has a 1.8Ah battery which is expected to offer up to 2 weeks of run time.
All in all this is really more of a $100/ 60 euro smartphone than one which sells for 121 euros, but I suppose if you want an E-ink screen you're willing to pay extra and accept some compromises (the MediaTek CPU, for example).
Update: A reader has pointed out that the product page mentioned Android Market, not Google Play. (I didn't even think to look for that.) Thanks, Sorin!
Gallery
product page