OptiQly's Chrome Extension Will Rate an Author's Book Listings on Amazon
Authors, have you ever wondered about the impression that readers get from your books' listings on Amazon?
OptiQly can help you find out. Mike Shatzkin's new startup has released a Chrome extension that can be used to scan a book listing on Amazon.com and rate the effectiveness of the description and other details.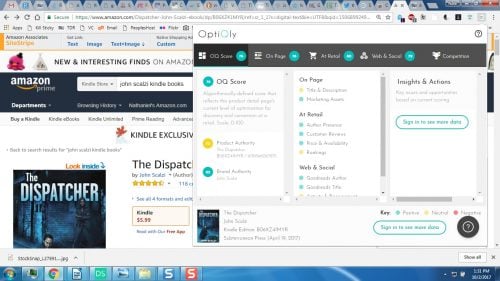 From what I can see, it rates details both on and off the page – there's a reference to Goodreads – and returns a numerical score that "reflects this product detail page's current level of optimization for discovery and conversion at e-retail" on a scale of 1 to 100.
John Scalzi's The Dispatcher, for example, scored 76. It was dinged for the description on Amazon, the author's engagement on social media, and the book's current ranking.
If you log in, you can get additional info, but the OptiQly website won't let me register for an account so I can't tell you what else this extension can reveal.
How do your books rate?