Prestigio announce new e-readers
I've just come across another ereader brand (via lesen.net). Prestigio are a consumer electronics company with products sold in 40 countries. They've just announced that they will be carrying 3 ereaders, 2 of which are made by Gajah Int.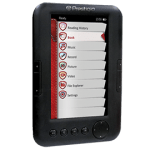 Prestigio are currently selling the PER3052, which is based on a 5″ LCD screen and doubles as a media player. The spec sheet lists decent audio, video, and ebook support. We've reviewed a similar device under the name Delstar Openbook. It had nice hardware, but the software was exceptionally disappointing.  Retail price will be around €120.
Next up is the PER3162.  I've reviewed the OEM version of this one myself. Again, the hardware is very good, but the ebook support is poor. It's going to retail for €200.
Last up is the PER5062, which (I think) is based on the Benq QD060B00.  This is a high end model with a Sipix screen. I don't have the specs, but I do have the FCC paperwork, and I know of a hands on video (same hardware, but might have different software). Retail should be €300.
via lesen.net