PSA: Crossroad Reviews Called Out for Selling Arcs as a Business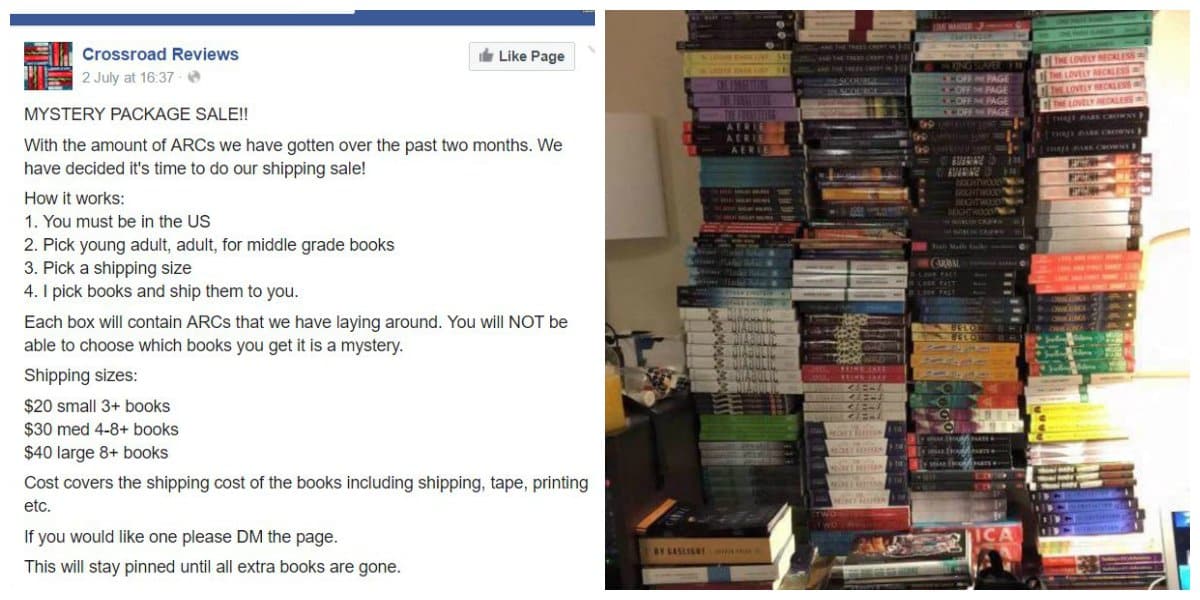 Authors and publishers know that they often have to give away ARCs (advanced reader copies) of their books to bloggers, reviewers, and librarians in order to build the early buzz.
They also know that some bloggers exploit the situation and resell ARCs for personal gain. This problem actually predates the rise of book bloggers, and there's really not much to be done other than cutting off the exploiter.
Crossroad Reviews is one book blog you might want to consider cutting off. That book blog is getting a lot of flack on Wednesday for a Facebook update they posted last week where CR was selling a large quantity of ARCs.
Correction: The following image is a composite, and not a single screenshot. The update on the left and the image on the right are from two different FB updates on the Crossroad Reviews FB account.
The update has since been removed, but not before someone snagged a screenshot:
CR claims to be charging only shipping costs, but in my experience it does not cost that much to ship a book (I've sold them on half.com and Amazon).
Also, this is just my personal opinion but I cannot conceive of a legit reason for a book blogger to have that many copies of that many titles. That wall of books doesn't look like a reviewer's bookshelf to me; it looks like the store room for a commercial operation.
And I am not the only one to feel that way; that screenshot is causing a storm of protest on Twitter, with many sharing it and advising others to forward the screenshot to their publicist and to blacklist Crossroad Reviews.
It's up to you to decide whether to follow the advice, but as for me I see Crossroad Reviews as being the type of book blogger which inspired this sign in the Macmillan booth at ALA 2016:
Forever my favorite sign at #alaac16 which I think is a con for librarians…. pic.twitter.com/v0sPbHxuU5

— Curmudgeon (@_ash) July 6, 2016
P.S. I'd like to thank Justin, Dararis C, Kathleen Folger, and Donalyn Miller for helping me with this post.