Sony to Launch 13.3″ E-ink Writing Slate in Japan (Photos)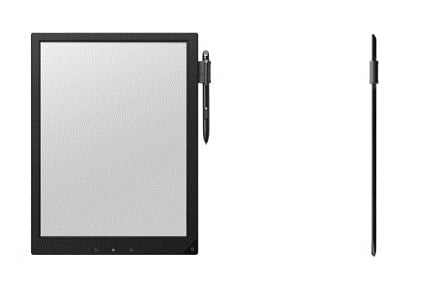 Sony has been researching flexible E-ink screens for the past several years, and today we finally learned why. They've just unveiled a behemoth of a writing slate, and they plan to bring it to market this year.
Sony hasn't revealed all the details on this unnamed ereader, but I do know that it is a prototype. It's equipped with a flexible A4 sized screen just like the ones that Sony teased in years past (more details at the end of the post). The screen measures 13.3″, and has a resolution of 1600×1200. The writing slate also comes with 4GB of storage, a microSD card slot, Wifi, and a 3 week battery life.
This is going to be strictly a writing tablet, and we can tell that from the touchscreen.  The press release describes it as an electromagnetic induction panel, and assuming that my technical source is correct,  this touchscreen is not fingertip friendly. It will only work with the included pen, and that means that most stylus(es) are out as well.
Update: But apparently this tablet also has a second touchscreen component, which in the original Japanese is described as optical. That sounds like it could be the IR touchscreen from Neonode. Cool. That means that users will be able to type on the screen.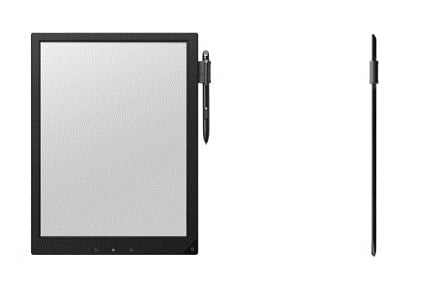 I suppose that is not such a bad idea given that users will rest their hand on the screen while writing, but it is a little disappointing that we won't be able to type on the screen or conveniently browse the web.
According to the press release, the supported file formats include PDF, PDF, and more PDF. No, your eyes do not deceive you; this slate does not support Epub or any other  format. It's not clear why Sony chose to limit the support so, but this writing slate doesn't even support basic office formats like Word, powerpoint, or excel (nor their open source equivalents).
That's going to limit the usefulness of this slate, and given that it will likely have a high price when it ships the lack of support could kill user demand.
This slate is going to go through field trials at several Japanese universities later this year. Sony expects to release it commercially by the end of the 2013 fiscal year. That would seem to be around the beginning of May 2014 (based on recent press reports).
The Screen
I have to say that I was surprised to see the news today. Sony has been teasing us with a flexible E-ink screen for at least 3 years now,and I never expected to actually see a prototype much less one that is going to go into field trials.
Sony has shown off early prototypes of the 13.3″ screen several times, and they even teased us with a flexible color E-ink screen at one point:
They've never explained why they were working on the screen, and in fact Sony's research confused many in the screen tech industry. They could not see a reason why Sony continued to sink money into the project, but more importantly it seemed that Sony didn't know why they were investing in the research.
I guess that impression was wrong.