The Soundlogic XT is the Android Netbook Convertible You Never Knew You Wanted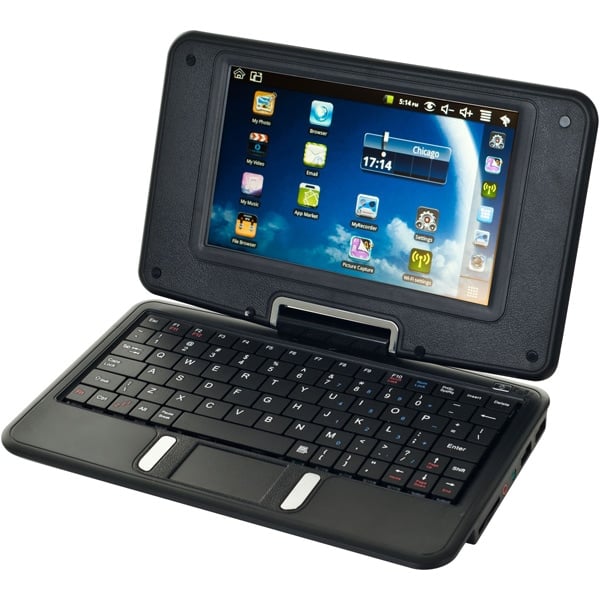 Today must be my day for finding weird stuff because I've got another one. The Soundlogic XT is that rarest of birds. It is both an Android netbook  and (thanks to the swivel hinge) a tablet.
This 7″ Android device showed up in one of my search alerts today. It's on sale at Miejer, but given the info I found on it I don't think it's worth buying.
Still, it's the odd duck of the Android ecosystem so I think it's worth a brief look.
Update: I posted a brief review of the device.
It's based around a standard cheap 7″ screen, and it's running Android v2.2 Froyo on an 800MHz CPU with 256MB of RAM. That last detail is according to the one review I found, which was done by a soul luckier than me. It has 4GB Flash storage, a microSD card slot, Wifi, speaker/mike, ethernet, but no camera or Bluetooth.
As you can see from the lead image, it has a nearly full keyboard (but shrunken because of the size of the screen) and a trackpad as well as the touchscreen. And if the review is to be believed, this device doesn't have a g-sensor, so when you need to change orientation you will need to do it manually. I don't think that will be a big issue, though.
It doesn't ship with much in the way of software beyond the very basic email, web browser, file manager, etc. And as you can probably guess, it doesn't have Android Market.
But that's not the biggest issue with this device. The reviewer reports that build quality is cheap, it didn't turn itself off at night, and that battery life is somewhere under 4 hours. Those last 2 are incredibly disappointing and they are good reasons not to get this gadget. On the other hand, it's weird enough that I'm tempted to get one just to collect it.
It's not the first convertible I've seen; they're old hat. It's not even the first with a mobile OS; that would be the Intermec 6651, a 10 plus year old device that hardly ever heard of. Now that was a handheld that was ahead of its time; it even had a camera (320×240). It was also probably built with higher quality parts, but then again it retailed for over $1,000.
Specs
Android 2.2
7″ (800×480) resistive touchscreen
800 MHz CPU
256 MB RAM
4GB Flash storage
microSD card slot
Wifi
mike/speaker
10/100 ethernet
USB Host
UPC: 044902055348