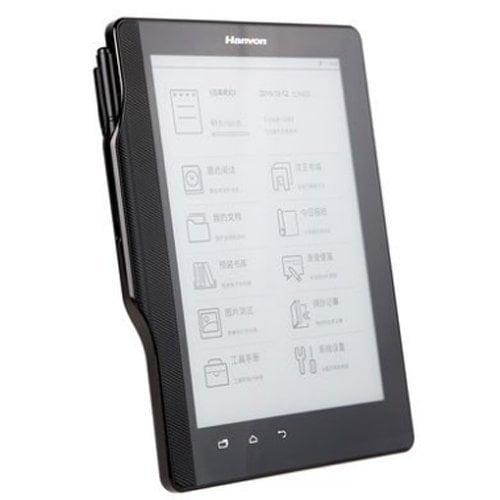 The market for large-screen ereaders may have been supplanted by tablets but that hasn't discouraged Hanvon. This Chinese ereader maker launched a new 9.7″ model this summer which combines a frontlight, stylus, and Android.
Details are still sketchy (several sites are offering contradictory specs and prices), but what we do know is that the E930 runs Android on a 1GHZ CPU with 4GB internal storage and a micro SD card slot.
The 9.7″ E-ink display has a screen resolution of 1,200 x 825. It does have a frontlight, and one retail site also mentions that the touchscreen is fingertip friendly. That is a stylus you see in the slot on the left, but it's optional.
It's not clear whether users can install Android apps, but I do know that the E930 supports TTS and has a rear-facing speaker. The E930 also supports a wide variety of file formats: MP3, wav, and arm for audio, and Heb, Epub, PDF, FB2, Mobi, doc, html, chm, and txt for ebooks.
At this point there is literally almost no English language coverage of the E930; I can't find anything aside from a mention at MobileRead Forums. But many Chinese retail sites do list the E930, including Amazon. They're showing that the E930 costs 2675 yuan, or about $435.
It's been on the market in China since August and garnered mixed reviews from users. Many complain about the slowness and disappointing screen resolution. There is also criticism of the frontpanel, which several users described as shiny.
The hands on video I found would seem to confirm that detail.
Hanvon was at one time (2009 – 2011) a leading OEM of ereaders, but I have not seen much from them in a couple years now. They last crossed my desk in 2012 when they announced that the C920, a 9.7″ ereader with a color E-ink screen, would be licensed to Ectaco and sold in Europe, Russia, and the US as the Jetbook Color.
Thanks, M Singh!