This Colorado Bookstore Deals Only in Books From Local Authors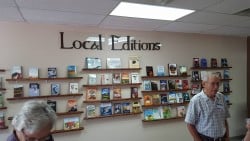 Frustrated by the lack of local opportunities to promote his recently published book, author Ron Vejrostek decided to open a bookstore of his own
Vejrostek, who has run a financial planning and tax preparation service in Longmont since 1990, opened the new bookstore in a 260 square foot space next to his office. It's called Local Editions, and it only sells books by local authors.
He says he was inspired to open the store after he had his book Financially Intact: Making Money is Easy, Keeping It is the Hard Part published three weeks ago. After finding it difficult to find a venue that showcases Colorado authors, he decided to start one himself.
"I had my own book come out, and found out that we just don't get a lot of support from the big-box stores or national online booksellers," Vejrostek said. "I thought it would be great if somebody opened a store that just specialized in Colorado authors – and a couple days later I decided I was somebody who could do it."
The store had its grand opening on Saturday, and it currently carries 82 titles. The books are sold at retail, with the store taking 30% of the sale price.
Vejrostek hopes to expand the collection to around 130 titles. Starting in September, he also plans to host Colorado authors on Wednesday nights.
In addition to the books, Vejrostek also plans to sell tea and coffee on the honor system. "No Frappuccinos, no cappuccinos. Just plain coffee — decaf or regular — and five flavors of hot tea … I want to keep it light, keep it fun. If someone doesn't pay the dollar, I probably won't go broke," he said.
This is only the beginning of a trend. As indie authors find themselves stymied by bookstores that won't support them, I expect that some will respond by calling on their entrepreneurial spirit and launching their own bookstores.
We first saw that with Gulf Coast Books, in April, and now Local Editions. How soon until the next indie-focused bookstore launches, do you think?
Daily Camera, BizWest