Tolino Vision eBook Reader Confirmed in Leaked Product Listings
When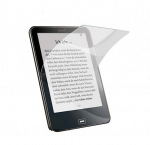 the Tolino Vision leaked last month on a design website, all I had to prove this 6″ ereader existed was a product render and a short blurb, but no real details on the price, specs, or release date.
Today I don't have much more in the way of information but I do have some evidence that the Tolino Vision is going to launch soon.
Johannes Haupt of lesen.net has discovered several product listings for accessories for the Vision, including cases and a screen protector. There was no listing for the Vision itself, and what little detail we have on the accessories does not include anything useful about the tablet, but at the very least we now know that this ebook reader exists.
I have embedded 3 of the product photos below. I had to copy them from the Google Cache because the listings were removed nearly as fast as they went up.
The Tolino Vision is probably going to launch in Germany some time in the next month. It will be carried by all of the members of the Tolino consortium, a motley bunch of tech companies and retailers that collectively claim the second largest share of the German ebook market after Amazon.