The Toshiba Encore Mini is a Windows Tablet that Goes Where Only Android Tablets Had Dared to Tread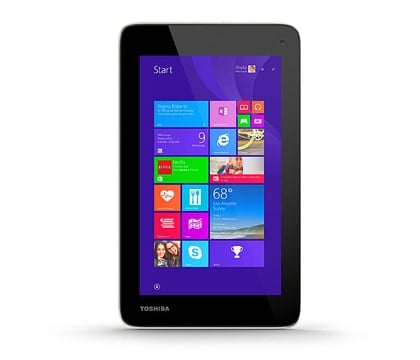 Intel has been promising for the past 5 months that we would see $99 Windows 8 tablet this year, and while the Encore Mini doesn't quite prove the chipmaker right it does come close.
This $119 tablet is a very slightly upgraded version of the Excite Go Android tablet I reviewed a couple weeks back. It features the same unimpressive 7″ screen, Intel Bay Trail CPU, and limited battery life, only now with Windows 8.1 instead of Android.
The Encore Mini  runs Windows 8.1 on an Intel quad-core 1.33GHz Z3735G chip with 1GB RAM. Like the Excite Go, this tablet has a decent enough 7″ display with a screen resolution of 1024 x 600, and it has the same estimated battery life, 1GB RAM, a single edge-mounted speaker, and the same general lack of ports as the Excite Go, but Toshiba did improve the Encore mini's specs in a couple places.
This tablet has 16GB internal storage, and it also has an additional 2MP camera on the back to complement the (IMO) unusable VGA resolution camera on the front. You'll also find Wifi, Bluetooth, and an accelerometer under the hood.
All in all this is a very light Windows 8 tablet which could probably have benefited from a bump in RAM.
It's not the first Windows 8 tablet to break $150, but it is likely going to be the first to crack $99. Toshiba lists the Encore Mino for $119, but I am expecting Best Buy to put it on sale for $99 in the near future.
So tell me, would you get one? I'm notplanning to do so, but then again I am not a fan of Windows 8; I'd much rather get an Android tablet in this price range.
But even if I set my preferences aside, this tablet still doesn't meet my standards for battery life – not unless it can improve on the estimated 4 hours of battery life of its Android counterpart.
Toshiba