Toys-r-Us' Second Kids' Tablet Ships in October – 8″ Screen for $150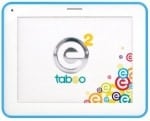 The new Tabeo e2 from Toys-r-Us could be a sign that 8″ really is the new 7″.
This tablet, which just showed up in a press release today, has a larger screen, a faster CPU, and more storage than its predecessor. It's expected to show up on Toys-r-Us  store shelves in October and retail for $150.
The Tabeo e2 features a rugged shell, an impact resistant screen (or so the press release says), front and rear cameras (2MP and VGA), and a capacitive touchscreen on an 8″, 1024 x 768 resolution display.
According to the product listing it's going to be running Android 4.2 on a dual-core 1GHz CPU with 1GB of RAM. It ships with 8GB of Flash storage and a microSD card slot. This tablet also has a g-sensor, speaker/mike, HDMI out, and Wifi/BT.
In terms of software, the Tabeo e2 will come equipped with a parental filter which is expected to keep your kids safe right up until they figure out how to bypass it. This tablet will also have access to the Tabeo App Store, where you will find 1,000 of free parent-approved apps, including Need for Speed, Bejewled 2, Fruit Ninja, Temple Run 2, Spy Mouse, Cubes vs Spheres, Crayola, and more.
The Tabeo e2 is launching into what is a rather crowded tablet market which includes competing devices from everyone from Amazon to Archos to Fuhu to OLPC, which launched the XO learning Tablet a couple months ago.
It is estimated to have a battery life of 5 hours, meaning it probably won't survive a long car trip without needing to be plugged into the car's lighter socket. When you combine the limited battery life with the unimpressive screen resolution and lack of Google Play, I see a tablet that does not justify the price.