Lessons Learned From a Failed Attempt to Turn my Android Tablet into an eBook Reader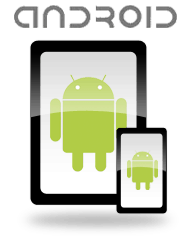 While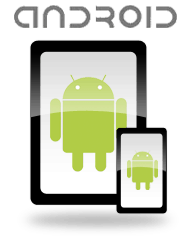 it's quite common to use an Android tablet as an ebook reader, few are designed to fill that need from the ground up. Amazon, B&N, and Kobo have each tried their hand at it, and over the past few weeks I have been looking for a way to add similar features to the cheap Android tablets I like to use.
In short, I have been looking for an ebook or media library app which can replace the home screen launcher app on Android tablets. Reading apps are a dime a dozen, but apps which manage your media library and put it front and center are comparatively rare. I still haven't quite found what I was looking for, but I did come across a few useful tricks that I wanted to share.
If you're not sure what I am getting at, let me explain by example.
Ever since I reviewed the Kobo Arc 7 a couple weeks ago, I have been looking for a way to add a few of its better features to other Android tablets.  The home screen on that tablet devotes most of its space to a user's Kobo ebook library, with 2 of the 3 pages of the home screen devoted to either a user's current reading activities or their ebook library.
I don't buy most of my ebooks from Kobo so their tablet doesn't work for me, but I still like how that tablet focuses on ebooks first. This has inspired me to go look for alternate home screens which might offer a similar focus.
I haven't found what I am looking for yet, but along the way I did come across 5 launchers which would make your Android tablet look like everything from an iPad to a Windows Phone, and I also found a few other possibilities that might suit someone else.
Widgets
For example, a number of reading apps (Google Play Books, Aldiko, EZPDF reader, and others) offer a widget which you can add to the home screen on your Android tablet.  These widgets don't offer the tight focus I want, but they do let you browse your ebook library from outside the related reading apps. And if you combine them with widgets for other types of reading apps (like Flipboard or Google newsstand) you can enhance your overall reading experience.
Here is a screenshot showing a few of the ebook widgets I found. Aside from Aldiko, I don't have enough titles in any single app to really show them in operation. But I do know that the Aldiko widget lets you swipe through the ebooks you have recently read. It doesn't work very well (it's laggy) but it might perform better on your Android device.
Alternate Home Screen Launcher
Even though I haven't found a launcher which works for me, I have found one possibility that comes pretty close. A Russian ebook company by the name of LitRes has released an Android launcher that focuses on your ebook and audiobook library. It doesn't do what I want but it does come close enough that I will sigh deeply as I set it aside.
LitRes is the leading ebook retailer in Russia, but they do more than just sell ebooks. They have their own ereader, and they've also developed apps for ebooks and the audiobooks they sell. And they developed an launcher which focuses on ebooks and audiobooks over other types of content.
As you can see in the screenshot below, this launcher offers separate pages for ebooks, audiobooks, and apps. It's designed to search your Android tablet and find all of the Epub and PDF ebooks on the device, and then organize them into a simple catalog. Select one, and you will be prompted to open the ebook with FBReader (audiobooks require the LitRes Listen! app).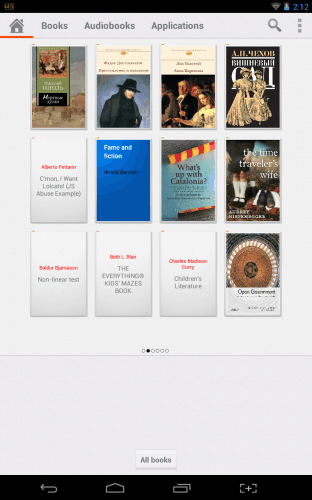 While this launcher looks useful and comes very close to what i want, it doesn't run very well. It crashed and froze on me several times, and it is set to only work with certain apps. If you have a preferred reading app (or audiobook app) you will be unable to tell the LitRes launcher to use that app. (It also doesn't recognize Kindle ebooks, so you can't use it as a complement to the Kindle app.)
But in spite of the issues I encountered, I am sharing it because I hope that you will have better luck. And if you don't well, it only wasted a few minutes of your time.
You can find this launcher in Google Play along with the FBReader app, the LitRes Listen! (required for audiobooks), and other apps.
LitRes Launcher (Google Play)
The Search Continues
I'm still looking for an alternate home screen which fills my needs. If you know where I can find one, or if you have a better way to accomplish this goal, don't hesitate to leave a comment. Thanks!