UK Library Readers to Get Free Access to Harry Potter eBooks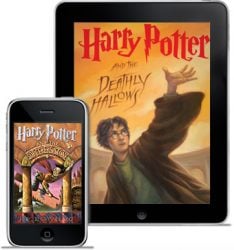 The twentieth anniversary of Harry Potter and the Philosopher's Stone  is coming up in a few short weeks. The Bookseller reports that Pottermore is marking the occasion by making the ebooks available for free through libraries:
Pottermore will make J K Rowling's Harry Potter and the Philosopher's Stone e-book available to UK library users over a two-week period to celebrate the 20th anniversary of its publication.

The global digital publisher of Harry Potter and J K Rowling's Wizarding World is ensuring "unfettered digital access" to the first book in the series through library distribution apps OverDrive, BorrowBox from Bolinda and Askews & Holts from 26th June, two decades since the Bloomsbury published the title. The unlimited number of loans will be available until 9th July.

Pottermore is arming libraries with digital and physical tools such as posters, flyers, social media materials and competition ideas to help them publicise the free loans.
In related news, Pottermore has also launched the Wizarding World Book Club, a new home where readers can discuss the Harry Potter series.
Readers all over the world can participate in the book club, but at this time it appears that only UK libraries will be getting the free access to the Harry Potter ebooks.
That is a shame. My local library, for example, has endless waiting list for every Harry Potter audiobook and ebook.
There's really no good explanation for limiting the promotion to the UK, and I have asked to confirm the initial report.