Used eBook Sales Still Legal in the Netherlands, But(*) –
With used app sales legal in Europe and used mp3 sales legal in the US, many pundits have been waiting for a legal ruling which decided once and for all whether a consumer can resell the ebooks they buy.
And after months of watching a certain court case in the Netherlands, we're still waiting. Earlier today a Dutch court released a ruling on the used ebook marketplace Tom Kabinet which split the difference between declaring used ebook sales legal and unlawful.
Launched in July 2014, Tom Kabinet offers users a place where they can sell the Epub ebooks purchased elsewhere. The content is limited to only DRM-free ebooks or ebooks with social DRM (digital watermark), and the site also adds its own digital watermark (in order to make sure that a user doesn't try to sell the same copy multiple times).
The site was sued by the Dutch book publishers trade group Nederlandse Uitgeversverbond (NUV) within weeks of opening its doors, and much to my surprise, Tom Kabinet won that first round. The publishers then appealed that ruling in September, and after several delays the court has issued a ruling on their appeal.
And here's where things get interesting.
eReaders.nl reports that a court in Amsterdam ruled that while it's not necessarily illegal to resell ebooks which had been bought legally, Tom Kabinet was going about the process wrong and would have to cease operations.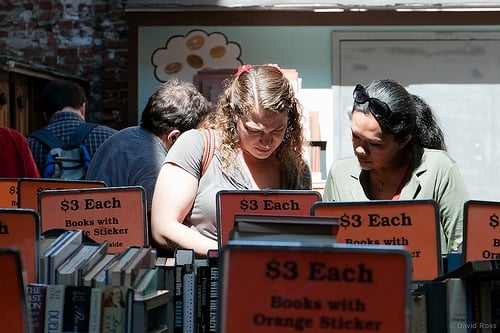 According to the ruling (or rather what made it through Google Translate), the court ruled that it was plausible that Tom Kabinet might also be facilitating the sale of pirated ebooks, so the site has to shut down.
In short, publishers won on a narrow technicality, an outcome which didn't really decide the important legal issues and pleased no one.
It's far from clear at this point whether Tom Kabinet can add the level of security required to satisfy the Dutch court, but it's not impossible. The US company ReDigi runs a used music marketplace which is structured in ways that would appear to meet the minimum requirements. ReDigi will only let users resell music which was purchased from iTunes after ReDigi's own software was installed on a PC. On first glance, that would fit the bill.
Update: A reader has tipped me to a report that Tom Kabinet thinks that they can continue operations if they limit sellers to only offering Epub files with digital watermarks. This would remove around 12,000 of the 17,000 titles on the site. Tom Kabinet also plans to start aggressively tracking the digital watermarks in the ebooks sold on the site in order to prevent abuse. They'll have to get the judge to sign off, first, or face a 1,000 euro per day fine. Thanks, Geert!
Amazon could also pull this off, assuming they wanted to get into used ebook sales, and so could Sony with its new DRM (which includes used ebook sales as a feature). Both would have to limit resales to ebooks bought with their respective DRM platforms, which would limit the selection but neatly solve the concern over pirated ebooks.
Amazon even has a patent covering used ebook sales, and as I pointed out a couple years ago Amazon could readily enable used ebook sales – just so long as they had the permission of authors and publishers. (Go read that post for a fuller explanation).
But I doubt that even Amazon will make use of the legal loophole opened by the Dutch court; it would piss off too many authors and publishers. As we learned with Yahoo and Flickr, there's a difference between what is legal and what is socially permissible.
eReaders.nl
images by r0sss