Wink e-reader launched in India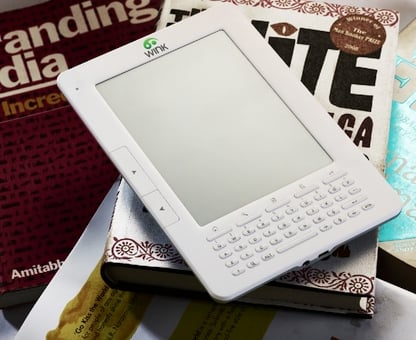 I've been waiting for for more detail on this ereader for some time now, and it just popped up yesterday.
When I first heard about the Wink, I thought it would be just an ereader. It turns out that it will be a family of (ereaders with screen raging from 5″ to 9″) by EC Media, a Bangalore based tech company.
Details are still sparse, but I do know that DC Books, EC Mdia's publishing partner, have already signed HarperCollins and Penguin to supply ebooks for the Wink. Also, the ebooks will be encumbered by Adobe DRM.
There were 5 models listed, and they're supposed to be available in mid July:
6-inch screen display with WiFi priced at Rs. 11,499 ($246)
6-inch screen display with WiFi, GPRS, Text to Speech (TTS) for Rs. 13,499 ($289)
6-inch screen display with WiFi, 3G, TTS to be made available at Rs. 15,499 ($331)
9-inch screen display with WiFi, 3G, TTS and Touch Screen for Rs.17,499 ($375)
5-inch screen display Reader for Rs.6,999 ($150)