Yotaphone Update Adds FBReader
It looks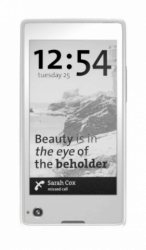 like Yota Devices may have been under pressure to get the much-delayed Yotaphone out the door earlier this month, because they just rolled out an update for the brand new smartphone.
The dual-screen Yotaphone is still missing a few bells and whistles, but with the new update users can now read ebooks and other docs on both of this smartphone's screens.
The Yotaphone now includes a custom version of FBReader, an open source ebook reader.  Readers can now view Epub, FB2, and many other files on the Yotaphone's 4.3″ E-ink screen. Few specific details are available, but one thing I can add is that this is not the first time that FBReader has shown up on a dual-screen device.
Few might recall this, but FBReader was ported to the Spring Design Alex. That circa 2010 ereader didn't have much success in the US, but after it was licensed to a Russian company it generated enough interest that it caught the eye of the developers of FBReader. They created a new version of FBReader which would work with both the 6″ E-ink screen and the 3.5″ LCD screen on the Alex, and they probably adapted the work put into that older app so a current version of the app could work on the Yotaphone.
The Yotaphone is equipped with 2 screens, a 4.3″ LCD with a capacitive touchscreen and a screen resolution of 1280 × 720. This device also has a secondary E-ink screen which also measures 4.3″ and sports a resolution of 640 × 360.
It runs Android 4.2.2 on a dual-core 1.7GHz "Krait" Snapdragon S4 Pro CPU with 32GB of storage, 2GB of RAM, and a pair of cameras (13MP w\Flash and 1MP). The Yotaphone has Wifi, BT, GPS, FM radio, a bevy of sensors, and support for LTE and GSM cell networks.
It retails for 499 euros, and is currently sold out. There's no word yet on when new stock will be available, but I expect the Yotaphone to ship again before Onyx's E-ink smartphone becomes widely available.