Amazon to Add New Reading Features to the Kindle Platform This Fall
In addition to launching a couple new Kindles on Wednesday, Amazon is also saying that they're launching a whole slew of new reading features (some of which, including Kindle Unlimited, aren't quite as new as Amazon would have you think).
Amazon is pitching Kindle Freetime Unlimited, X-Ray, Kindle Unlimited, and GoodReads integration as being "all-new reading features", but I don't see anything new there so I will skip them. (If I missed something, please leave a comment, and kudos for pointing out my omission.)
But some of the features are new to me, or at least sound like they're improved versions of existing features, including a new assisted reading option called Word Wise, Family Library, an enhanced search function, and a new about section.
Amazon says that the new new features will be added this fall in a firmware update.
About the Book
This one sounds appealing. The About the Book section offers information about the book as you start to read, including its place in a series and author information, plus mark. This feature builds on Amazon's book social networks and existing features like "About the Author" to provide more details for the engaged reader.
Word Wise
I also don't see that I have the Word Wise feature, which i suspect may be an improved version of the Vocabulary Builder. Word Wise was developed for kids learning to read and for readers learning English, and it is intended to make it easier to understand challenging books.
According to Amazon, after Word Wise is added in a future update readers will find their ebooks peppered with short and simple definitions floating above difficult words. To learn more, a reader can tap on the word to bring up a simple card with definitions, synonyms, and more. Amazon says that this is an optional feature, and that you can select the density of the hints with a simple slider.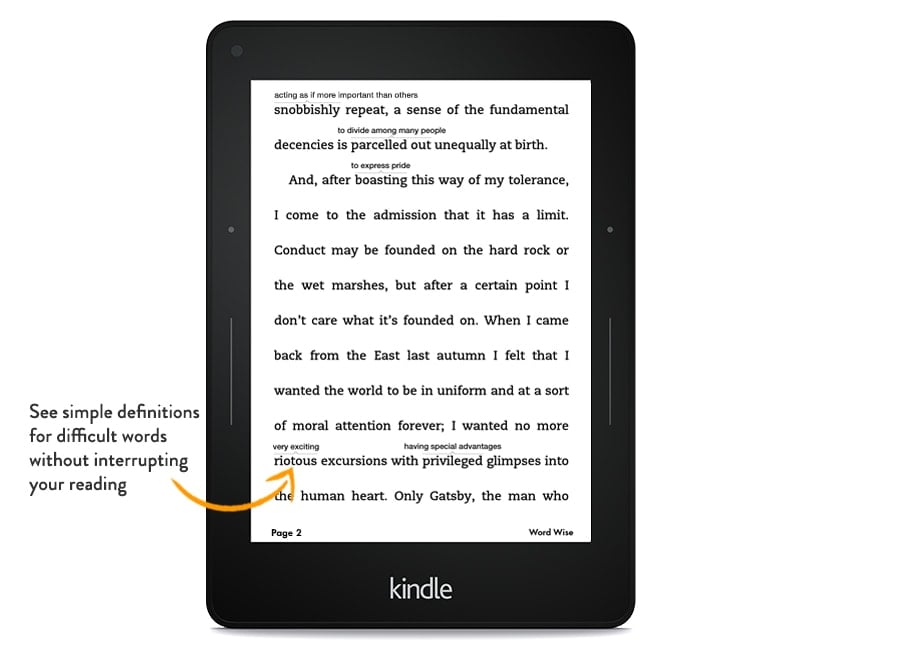 Deeper Goodreads Integration
Amazon's found a new way to sell you ebooks – from inside the Goodreads pages on your Kindle. When the new firmware update rolls out, readers will be able to purchase books without leaving Goodreads on Kindle, and update their reading status more quickly from their device.
Enhanced Search
The search function has been one of my favorite features since the Kindle launched 7 years ago, and Amazon says that it's getting better. The new enhanced search function will make it even easier to find what a reader is looking for by combining and previewing results from their Library, Goodreads and the Kindle Store – all on the same page of search results. I'm not sure that I see how that is better, but I could be wrong.
Family Library
And last but not least, there's the Family Library. Want to share ebooks with your close relatives but don't want to let them have access to your account? Then you'll like this.  I don't have many details on it yet, but Amazon says that it will enable readers to access not only their own Kindle books, but also books from the Amazon account of a partner or relative. I don't know about you but I can't wait to try it; I can finally get my mom off of my account.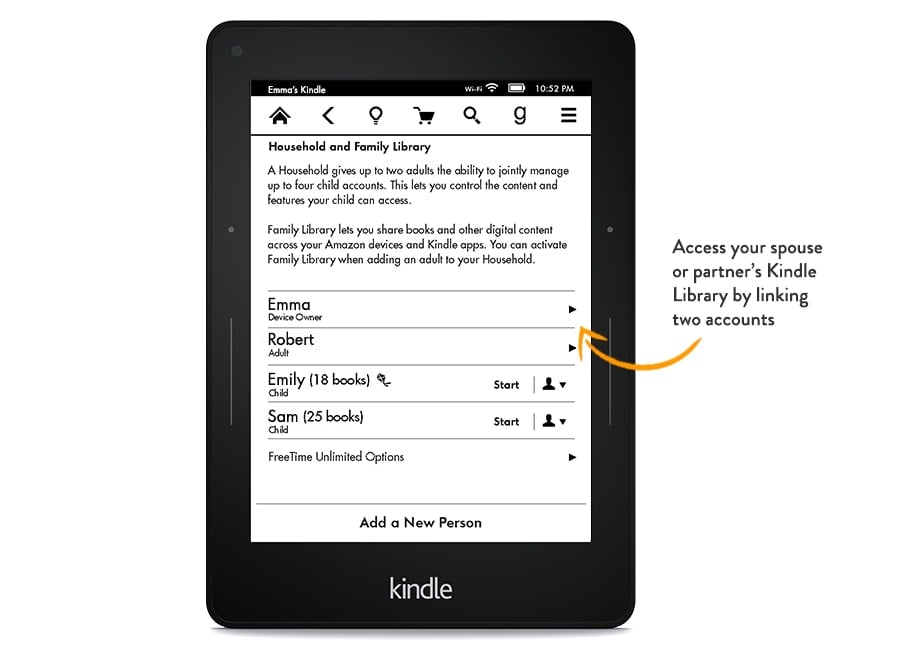 According to the press release, the features above will be delivered as part of a free, over-the-air software update sometime this fall.