Amazon Releases the Kindle Paperwhite "Manga Model" in Japan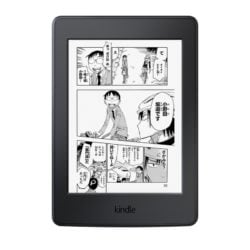 With 4GB of storage, the Kindle Paperwhite has more space than most ebook readers could conceivably use.
Even I don't use more than one GB on my Paperwhite, but then again I don't use it to read PDFs, digital comics, or manga. If I did then I would be interested in the new Paperwhite model with eight times the storage.
On Tuesday the Japanese branch of Amazon launched a new Paperwhite model, one with 32GB of internal storage. The new Manga model is up for pre-order with a price of 1,6280 yen (~ $156 USD), or about $19 more than the regular Paperwhite. And yes, that is the ad-subsidized price.
Aside from the storage, the Manga Model is more or less identical to the regular Paperwhite, it's just that now readers can get a Kindle with enough storage for up to 700 manga comics.
Both models have a 300 ppi Carta E-ink screen, weeks of battery life, Wifi, frontlight, and touchscreen, and neither have a card slot where users can add additional storage.
Apparently it really will kill them to add that card slot which some have been requesting ever since the second Kindle was released in 2009. And since no one wants to be responsible for a massacre, I am sure we all support Amazon's decision.
Seriously, folks, while that may come across as more sarcastic than I intended the point remains that people have been saying for years that some users need a lot more storage. That's why some have been agitating for a card slot on the Kindle, and why we have appreciated when other ereaders like the Pocketbook Inkpad offer expandable storage.
Now Amazon has conceded the point while still not taking the sensible step of adding a card slot. That would have been a one-size fits all solution, but Amazon has instead added a new Paperhwite model to an already confusing lineup.