Author Earnings Report: Kindle Unlimited is Bigger than iBooks in the UK, US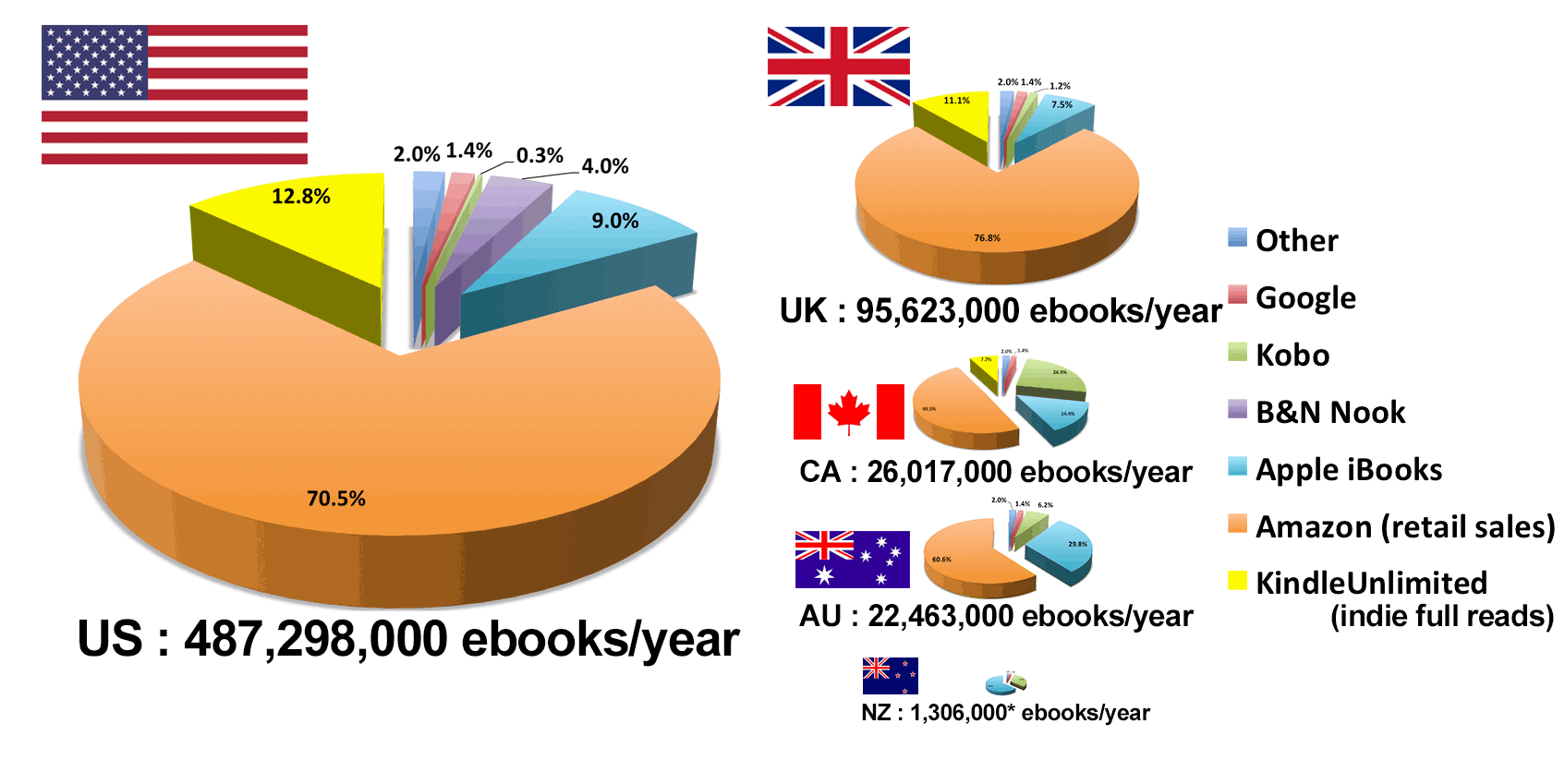 For the past 18 months I have been arguing that  Kindle Unlimited was one of the major ebook channels in its own right just based on what it was paying publishers and authors each month.
New data from the latest Author Earnings Report shows that Kindle Unlimited accounts for a larger share of the US and UK ebook markets than even iBooks.
Correction: Data Guy sent me an email, pointing out that my title is wrong. What he found was that KU earnings, when combined with the retail sales of all the titles in KU, accounted for a greater number of unit sales (which, in my opinion, is a pretty confusing way to measure KU activity).
The main focus of the report is the relative size of each of the five major English-language ebook markets, but a later section delves into Kindle Unlimited's share of the market.
Indie authors often struggle with the choice of whether to make a particular title a Kindle Unlimited-enrolled Amazon-exclusive or to sell it at all retailers. For those authors, the breakdown of indie sales on the left side of the above chart is a particularly interesting one. But it's worth keeping in mind that around half of the "KDP Select" indie sales are actually full-read-equivalent Kindle Unlimited payments to indies, rather than straight retail purchases.

So let's now break those KU full-read equivalents out separately, as shown as yellow pie-wedges in the two charts below:

So what do the above graphs tell us about Kindle Unlimited and indie author earnings?

The breakdown of indie dollar author earnings looks nearly identical to the unit-sales splits shown above. Kindle Unlimited indie page reads (at a current run rate of $180M+/yr) are now paying Amazon-exclusive indie authors far more total dollars than "wide" indie authors are earning from their sales at all non-Amazon ebook retailers combined (a total run rate of roughly $50M/yr in non-Amazon indie author earnings).
So should publishers and authors go all in on Kindle Unlimited?
Maybe, but to be honest I would not make a business decision like that based on the above data.
I am not disputing the validity of the data; my point is that individual authors are so small and the market so large that (with the right marketing) you can make a lot of money with either option.
Hell, there are authors making a living on direct sales or from other channels that don't show up in the broader market data.
So while Kindle Unlimited's market share matters on a broader scale, it is less important to individual authors and publishers.