Barnes & Noble Discontinues the Nook Touch
Don't
look now, but Barnes & Noble has retired the Nook Touch. This ebook reader, which initially launched in 2011, is no longer mentioned on the B&N website, and according to my sources all mentions of it are being removed from B&N stores today.
The Nook Touch is still available on the Nook UK website, and you can still find it via 3rd-party retailers and on Ebay, but so far as B&N is concerned this model has been discontinued here in the US.
On a related note, the 2012 Nook Glow is also gone, but that should come as no surprise. That ereader was replaced in late 2013 by a newer model, and was subsequently retired.
The Nook Simple Touch was B&N's second ebook reader, and it was released in late May 2011. It ran Android 2.1 on an 800MHz CPU with 256MB RAM, Wifi, a 6″ E-ink screen, and an IR touchscreen. It had 1.2GB of internal storage, and a microSD card slot.
For a while there the Nook Touch proved quite popular among hackers; once B&N's interface was bypassed hackers quickly began to appreciate having a 6″ E-ink Android tablet, and they came up with new ways to use it including by playing Angry Birds, running a MacOS emulator, reading Kindle ebooks, playing videos, and some truly weird tricks like word processing and wireless printing.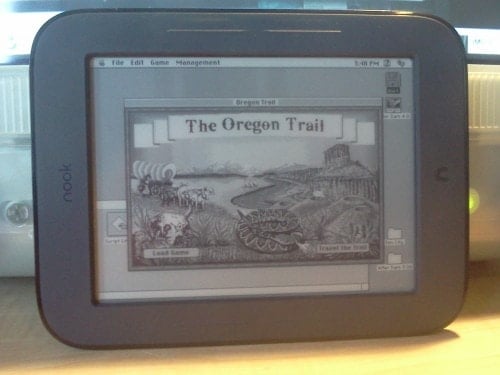 The Nook Touch hadn't received significant updates in some time the 3 years since it launched, so I am not surprised that it's now gone, but I do wonder whether this was the best move.
This model was priced to compete with the basic Kindle, and now that it's gone B&N won't have an ebook reader for the budget conscious consumer. Sure, there are any number of models on the market which will work with the Nook Store, but I was under the impression that one goal for the Nook hardware was to try to lock readers in to buying their ebooks from B&N.
Perhaps B&N isn't so interested in the bottom of the market any more? Given that they were probably losing money on each Nook Touch sold, that would make some sense.
In any case, the Nook Touch is still available at a variety of retailers, including Walmart, Target, and Ebay.