New Onyx Boox Max Carta up for Pre-Order, Sports a Higher-Resolution Screen
Released last summer, the Onyx Boox Max was a pricey but worthwhile alternative to the Sony DPT-S1.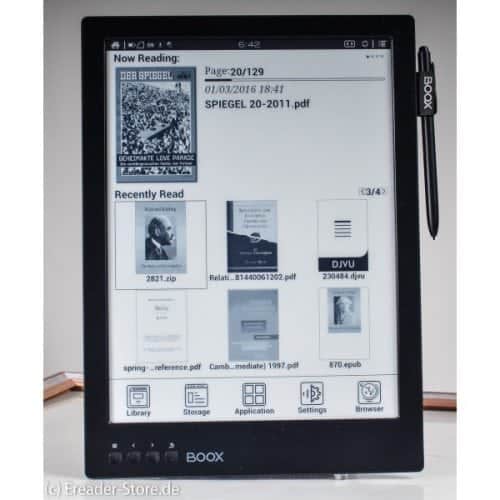 It ran Android 4.0 on a 1GHz CPU with a 13.3″ screen, stylus, Wifi, and BT. As I pointed out in my review, it was not your typical ereader, but since it shipped with Google Play its functionality was limited only by the apps you installed (and by the CPU).
But now it is getting a little better.
eReader-Store.de is now taking pre-orders for the Onyx Boox Max Carta. This is an update to the Onyx Boox Max with a new higher-resolution Carta E-ink screen. But it has essentially the same guts, though, so there are arguments against paying the extra 45 euros at the register.
Like its predecessor, the Onyx Boox Max Carta runs Android 4.0 on a 1GHz single core CPU (last year I misreported the processor as a dual-core CPU). It comes with 1GB RAM, 16GB internal storage, stylus, Wifi, Bluetooth, a headphone jack, a card slot, and can be upgraded to Android 4.4.
The one key difference between the Onyx Boox Max Carta and the previous model is that the Max Carta has a Carta E-ink screen with a resolution of 2200 x 1650, or 207 ppi. The original Max had a screen resolution of 1600 x 1200, oe 150 ppi.
The retail price is 796 euros (~$853), or about 45 euros more than the first model.
The new model has a considerably sharper screen, which is great and all, but I for one was hoping for other upgrades: a faster CPU, capacitive touchscreen, or Android 5.0.
This is hardly an upgrade at all.