The Eewrite E-Pad Will Have a 10.3″ E-ink Screen, Wacom, and 4G, and Run Android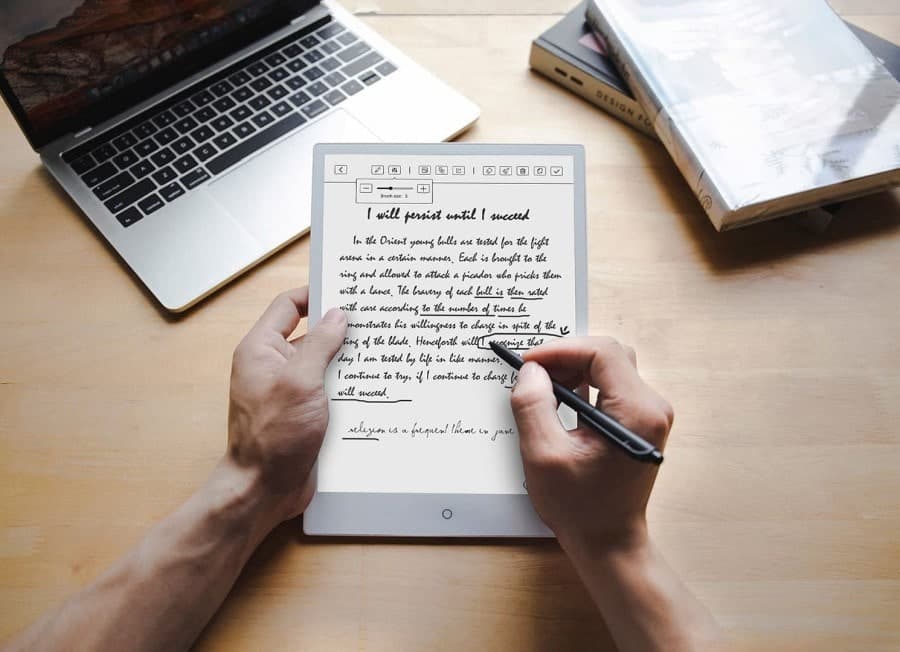 In the late ereader era, the major ereader makers (such as Amazon, Pocketbook, Kobo/Netronix, and B&N/Netronix) are sticking to designs so boring that the 7″ Kindle Oasis seems novel and refreshing even though it is really just copying features found on earlier models from competitors.
Seriously, I would be giving up in despair if not for small companies like oGadget. This is the latest in a line of small companies which  are using crowdfunding to bring niche ereaders to market. (Without companies like this, we'd be stuck with watching Onyx come up with great designs that we cannot buy.)
This is why I was thrilled when I read over on Liliputing that oGagdget is teasing the launch of a new 10.3″ E-ink notepad called the Eewrite E-Pad.
Edit: oGadget is the promoter, not the developer. I'm told this is being developed by a company called Wiskey.
This device only exists as very pretty renders on oGadget's website, but according to the company it will sport a deca-core CPU with 2GB RAM and 32GB internal storage, and it will run Android.
Here's a run-down of the E-Pad's key specs:
Screen: 10.3″, 1872 x 1404 E-ink display (227 ppi)
OS: Android (with Google Play Store)
CUP: unknown seed, Deca-core CPU
RAM: 2GB
Storage: 32GB, microSD card slot
Touchscreen: Capacitive touch + Wacom pen input
Mike, speaker
Connectivity: WiFi, Bluetooth, GPS, and 4G LTE
Weight: 392 grams (14 ounces)
The E-Pad is expected to have a retail price of $699, but the first 200 folks to back the crowd-funding campaign will be able to reserve one for $399. That campaign won't be starting for another 4 weeks, but you can sign up on oGagdget's website to be notified when it does.
The retail price makes the E-Pad one of the more expensive 10.3: devices around, but it is also the only one with 4G connectivity.
Do you think that is worth the extra $100 over the price of the Remarkable or Sony Digital Paper?
Eewrite via Liliputing