iOS8 Launch Could Ignite Apple's eBook Efforts.
I have long argued that Apple has more ebook revenues than B&N, and with the spread of iBooks that will only be more true. Apple is promoting iBooks on iOS8 with an extensive free books promotion which will include popular titles like James Patterson's Privates, Lost in Shangri-La by Mitchell Zuckoff, and The Way of Kings by Brandon Sanderson. Apple is even offering free exclusives, including a contemporary romance by Bella Andre. Apple is running their Great Free Books promotion in 30 countries in all, with titles in 9 languages.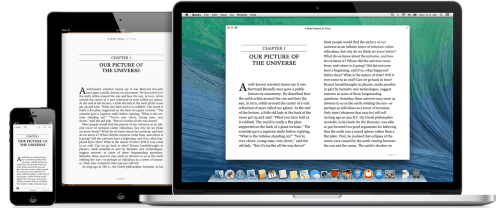 What's more, one of the new features to launch with iOS8, Family Sharing, will also help boost iBooks use. Like Amazon's recently announced Family Library, Family Sharing enables iDevice users to share purchases from iTunes and iBooks without sharing accounts. This enables parents to share apps, music, and most especially ebooks with their kids without having to also share their credit card.
As anyone who has followed the brouhaha over in-app purchases can tell you, that new level of control is very appealing to parents as well as anyone who has been asked or required to share an account.