Amazon Launches the Kindle Voyage, Will Charge an Arm and a Leg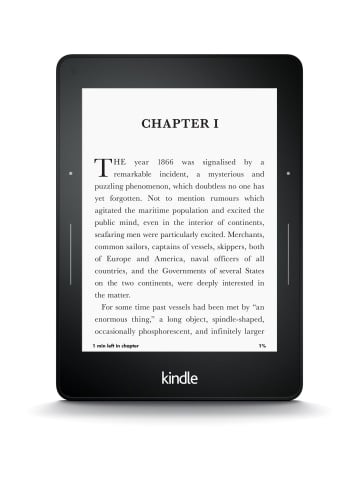 With the cat long out of the bag, Amazon officially launched the Kindle Voyage Wednesday night.
This new Kindle model is everything that the TechCrunch story from last November said it would be. It sports a 6″ E-ink screen with a screen resolution of 1440 x 1080, or 300 dpi. It has a touchscreen, an adaptive frontlight with ambient light sensors, and those fancy page turn sensors which I am dying to try out.
In many ways this is a souped up, premium version of the existing Kindle Paperwhite, and since it has many of the same features as that well-known I won't repeat them here.
But I do notice that there are a few improvements, in addition to those light sensors. Amazon is boasting that this is new Kindle is their thinnest yet; at 7.6mm, it is even thinner than the recently discontinued basic Kindle. And at 6.3 ounces, it is also noticeably lighter than the Kindle Paperwhite.
Speaking of which, the Paperwhite will not be going anywhere. It's going to stay at its current price point, and keep the 4GB of storage. It's now Amazon's mid-tier ereader, with a price and features in between the $79 Kindle (or Paperwhite Junior, as I think it should be called), and the $199 Kindle Voyage.
Yes, the Kindle Voyage is going to cost $199 – for the Wifi and ad-subsidized version. The 3G model will cost more, with the highest price point at $289. Both models are expected to ship on 21 October.
That price point is going to make the Kindle Voyage a damned expensive ereader. It will cost more than the Kobo Aura H2O, which will sell for $179 and has a larger screen and pretty design.
While I understand why Amazon is charging so much (production costs for the screen and other components), I think the price tag on the Voyage may be a mistake. It is far more than I am willing to pay for a 6″ ereader with no sound or card slot – high resolution screen or no.
I have been thinking about the Voyage ever since the news leaked this morning, and this might surprise you but if I were choosing between the KV or one of the two 6.8″ ereaders on the market (Kobo Aura H2O or Onyx Boox t68 Lynx), I would go for the latter. I like the bigger screen over the sharper screen.
I've been wanting a Kindle with a 6.8″ screen ever since the Aura HD appeared last year. If it had launched today I would have already pre-ordered. Alas, Amazon continues to disappoint.
But that's just me; what do you think of the new Kindle?