Android eBook App Aldiko Hits 20 Million Downloads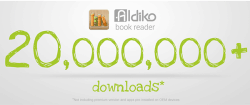 Aldiko is coming up on its 5th anniversary in June, and the developers will have something to celebrate. They just announced that the app had reached a new milestone.
The Aldiko app has now been downloaded 20 million times. Considering that this does not include premium purchases or pre-installed versions of the app, that is an impressive accomplishment.
Aldiko has a far larger install base on Android than either Barnes & Noble or Kobo, a detail I noted when Aldiko reached 15 million downloads in September 2013, and they're not the only indie reading app to best the majors. Moon+ Reader also reports downloads in the 10 million to 50 million range (according to Google Play).
Aldiko and Moon+ are two of the most popular reading apps on Android, second only to the Kindle app – and of course Google Play Books.  But given that Google has arranged to pre-install Play Books on nearly all certified Android devices (I think it's a contract requirement), I'm not sure it's reasonable to include Google when looking at installs as a popularity contest.