Apple Acquires Booklamp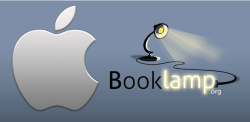 News is breaking Friday night that Apple has acquired Booklamp, aka the "Pandora for books". Techcrunch broke the story, which was subsequently confirmed by Apple.
Apple's brief statement said:
"Apple buys smaller technology companies from time to time, and we generally do not discuss our purpose or plans."
The terms of the deal have not been disclosed, but Booklamp is rumored to have sold in the range of $10 million to $15 million. The company had raised around $900,000 in capital, and up until the acquisition it had been based in Boise, Idaho.
Update: It now seems the deal went down in April when Booklamp closed their Boise office and (reportedly) cancelled their existing contracts.
Booklamp is best known for the unique tech it had developed called the Book Genome Project. Booklamp had developed algorithms which analyzed a book's structure, pacing, word use, viewpoint, action, dialog, description, perspective, genre, and other details in order to identify a book's DNA, as it were.
For example, last October Booklamp offered a unique insight into the then ongoing debate over erotica ebooks in ebookstores. Booklamp CEO and founder Aaron Stanton ran a meta-analysis on the ebooks which Booklamp had previously analyzed and showed that:
Over 28% of the 15,000 indie titles which were collated for this comparison were erotica, compared to less than 2% of the 100,000 plus traditionally published titles in BookLamp's database.

… BookLamp found that around 3% of indie titles involved questionable themes:
The idea of identifying a book's DNA is the brainchild of Booklamp CEO and founder Aaron Stanton, who has been working on developing the concept since 2007. According to an old story on Slashdot, the first prototype was shown off in 2008, and it was based in part on an idea Stanton first conceived in 2002.
The company had a public facing website at booklamp.org, which was quietly shut down in April of this year, and I had also previously been told by Booklamp that they had also used their tech in B2B deals to help ebook retailers, distributors, publishers, and tech companies understand the titles in their respective catalog.
According to Techcrunch, Booklamp's services ranged from: "automatic book screening for proper categorization (Apple) to providing a platform for the publishers that they could use for screening manuscripts to consider whether a book would sell well with a particular demographic, or how much marketing budget should be allocated to it".
In 2013 Booklamp also announced a partnership to offer this kind of analysis on books distributed via Lulu, and they also used their tech as the basis for a card game called Game of Books. This last was funded on Kickstarter in late 2012.
At this point no one knows for sure how Apple plans to use the startup, but I do agree with Techcrunch's speculation that Apple is stepping up its ebook game:
One option would be to use BookLamp to build a competitor to Amazon X-Ray, which lets readers see where and how often terms or characters pop up in a book. That could be useful for classifying books into categories or flagging ones with sexual or violent content as being unsuitable for kids — or simply providing feature parity with Amazon's Kindle app, which offers X-Ray on iOS.

Considering Amazon's headway into self publishing, it's enticing to wonder whether BookLamp's technology for screening manuscripts to figure out their market fit, or the other tools they were developing and using, may end up getting implemented under their new owner to determine what it should promote. BookLamp's algorithms could augment Apple's human editors who choose what's highlighted on the iBooks homescreen.

The most obvious way, though, would be to use BookLamp's content and style analysis to power individualized iBooks recommendations.
It's too early to say exactly what Apple is going to be doing next, but I do expect that it will be interesting.