Apple to Add New iBooks Support to the iPhone Next Week?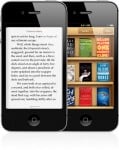 It is widely accepted that Apple is going to launch new iGadgets next week but one blogger thinks we could also see a surprise software announcement.
A blogger with Macworld thinks that the iPhone could gain new support for ebooks made by iBooks Author. This is of course completely separate from the new iBooks app for OSX, and if this prediction is true then the iPhone could become a lot more useful in the classroom.
Apple announced iBooks Author in January 2012, and ever since then you have only been able to use the app to produce ebooks for the iPad.  It's not clear whether the limitation is technical or by design, but iBooks Author can't make an ebook which can be read on an iPhone.
That might be about to change.
Macworld has noticed that Apple has changed a short piece of text in the book listings in iBooks. It's not visible on the website yet, but they're reporting that if you look up a book in iBooks you will see that an ebook made with iBooks Author now has this requirement:
To view this book, you must have an iOS device with iBooks 3.0 or later and iOS 5.1 or later, or a Mac with iBooks 1.0 or later and OS X 10.9 or later.
The thing about this requirement is that it didn't use to say that. Instead it said that you had to read the ebook with "iBooks 3.0 or later on an iPad".  That is a telling change, and while it's not always a good idea to read too much into a few words in this case I think Apple may have given away the news.
On the other hand, I should also point out that Apple could have announced this new support back in May when they announced that OSX would be getting an iBooks app. They didn't, and that could be a sign that we're reading too much into this.
Nevertheless, my gut says that it is probably going to happen. It would make sense for Apple to expand the potential market for ebooks made with iBooks Author to include the more numerous iPhones (and iPod Touch).
Of course, if this did happen the change might also require an update to iBooks Author so it could produce ebooks with formatting that made better use of an iPhone's screen real estate. But it is entirely possible that Apple could announce everything all at once.
And that might not be necessary. Macworld says that the portrait mode of an iBook should work on an iPhone:
To my mind, it's likely that we'll see iBooks Author support on the iPhone when iOS 7 is released. The groundwork, after all, has already been laid. As I mentioned in my critique of the program last year, iBooks Author already has a potentially viable option for iPhone and iPod touch users—its reflowable portrait mode. In it, interactive elements float alongside the text, which itself can be resized by the reader. In addition, current iPhone models (and any that might get announced next week) will have more than enough power to display videos and other interactive content.
I'm not conversant on the technical details. What do you think?