E-ink Screens Now Available From a German Electronics Wholesaler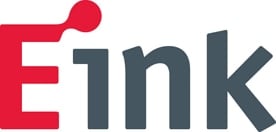 Monday's news that Kobo has a couple new ereaders in the works has borne unexpected fruit. While I still don't have any additional details on the devices themselves, I can report that the details on the screens have turned up a related opportunity.
A reader has found a German electronics wholesaler which says it has E-ink screens in stock. (Thanks, Micheal!) According to its website, Beck is now carrying a variety of screen sizes ranging from 6″ to 13.3″ – including the 6″ 300 dpi screen found on the Kindle Voyage.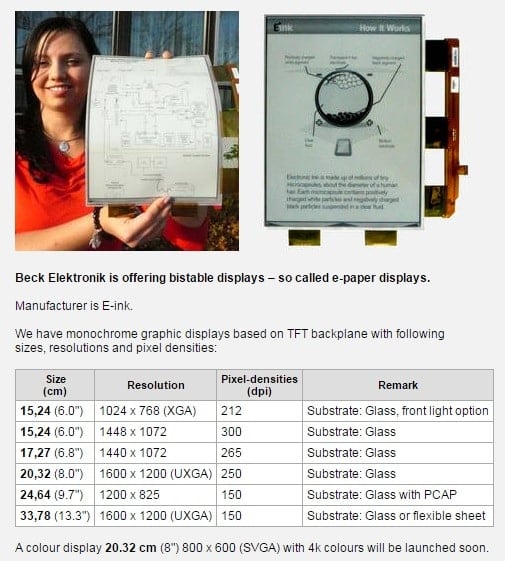 This is not the first time I've seen E-ink screens for sale as components, but I was surprised to see a company claiming to offer the screen from the Voyage. I had thought that Amazon had had an exclusive on that screen, but now I see I might have been wrong.
I'm still waiting for pricing and technical details from Beck Elektronik, so at this time I can't report on the specific condition of the screens – whether they are sold with bare cables or with an adapter board included.
Either is possible.
E-ink screens made by Pervasive Displays, E-ink's partner in the DIY and hardware development market, are available both with and without those adapter boards. Pervasive Displays makes screens with sizes ranging from 1.44″ to 10.2″, all of which have unusual screen resolutions.
You won't find them in ereaders, but you can find them through electronics wholesalers – DigiKey, for example. AdaFruit is also carrying a few products, although those are more intended for DIY market rather than hardware development.
As you can see from the prices on Digi-Key, the screens run pretty expensive when sold as a single component. I can't tell you the prices Beck will be charging with any certainty, although I would expect the Voyage's screen and the 13.3″ screens to be expensive. I've been told by Netronix that E-ink is selling the latter to device makers at $150 a pop.
Speaking of the screen on the Kindle Voyage, this new report increases the odds that Kobo's new "Alyssum" device has a 6″ screen, and not the 6.8″ screen which I suggested on Monday. If Beck really does have that screen, then it would mean Kobo might as well.
And that is why I am doing breathing exercises at the thought that Kobo might launch a Kindle Voyage competitor this spring. At this point that is pure speculation, but I will be keeping an eye out just in case.