Google Now Selling & Renting Textbooks in Google Play Books
Many colleges are going to start classes in the next few weeks, and Google is ready for them. I've just learned that the new textbook section of Google Play Books now has the textbooks that Google promised some weeks ago.
Google is now selling and renting textbooks from 6 different publishers. The ebooks I checked were all listed for either rent or sale, but not both. Most titles were only available for rent, and only for a 6 month period.
The rental and the selling prices were rather high, IMO. While the rental prices were lower than the price of a new paper textbook (by about 25%), the effective price of that paper textbook would likely end up being much less after you sold it back to the bookstore. That makes the paper textbook a much better deal, IMO.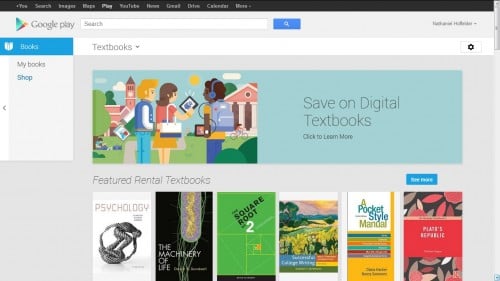 Google has also updated the Google Play Books app for Android, iPad and iPhone. The new IOS app now supports the rented textbooks and offers a new sepia reading mode as well as support for highlighting and note-taking in scanned pages books.
The Android app doesn't appear to have been updated with the rental textbook support yet, though that feature might have been quietly added weeks ago. also got the new features, but it took a while for the changelog to also be updated.
On a related note, the textbook section of Google Play Books now appears to be entirely populated by textbooks, and a brief perusal revealed that the hundreds of technical and reference titles which Google tossed into the textbook section when it was announced several weeks ago have been removed. They have been returned to their previous sections of Google Play Books. (For example, the Computer & Tech section of GPB was placed under the textbook section on that day, but it has since been restored to its own section of GPB. Weird.)
Google is now selling ebooks in 27 countries around the world, including Russia, India, US, South Korea, and most of western Europe.