Gutenberg, WordPress, & You: the What, the Why, and the How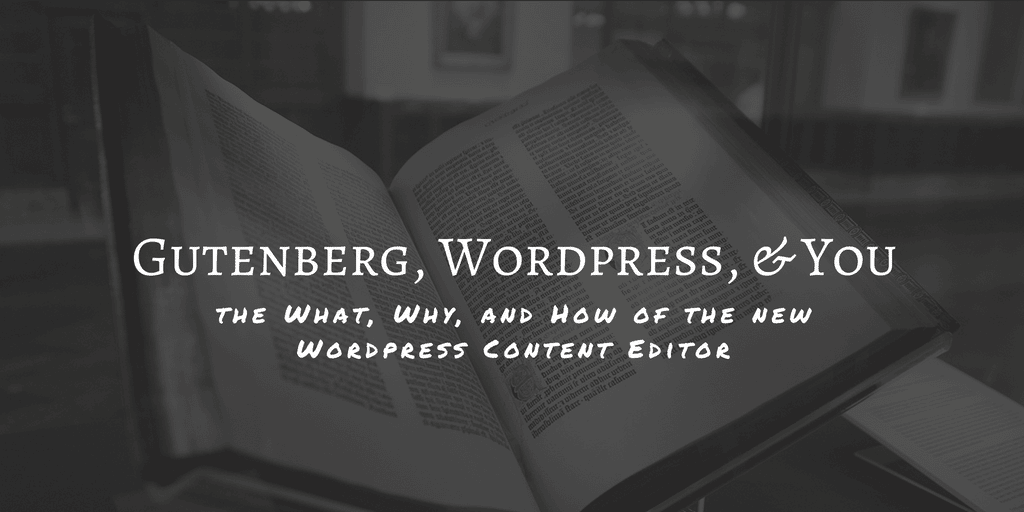 If you have a WordPress site, chances are you have heard of something called Gutenberg. You could have seen one of the posts written about it over the past 18 months (such as mine), or you may have seen the notice when you updated your WordPress site to v4.9.8.
Either way, if you are the average user you are probably wondering what Gutenberg is and how it will affect your site.
The following post is a short explainer that will delve into what Gutenberg is, why it matters, and how it will affect you. I'll explain the motivations that drove Gutenberg development, lay out your options, and point you to sites where you can learn more.
What
Gutenberg is a new official part of WordPress. It is currently in beta, and is scheduled to launch with the release of WordPress 5.0.
I have been following the development of Gutenberg for over a year, and in that time I have learned that the easiest way to explain what Gutenberg is to ask whether you are familiar with one of the mailing list services like Mailchimp or Mailerlite. Have you used one of their newsletter builders?
If you have used one then you will better understand Gutenberg when you see it for the first time.
Gutenberg replaces the existing post and page editor menu in WordPress with one that behaves more like Mailerlite's newsletter builder. Where the existing editor resembled old word processor apps (think MS Word, circa 2002) and was designed on the concept of typing out paragraphs of text, the new Gutenberg editor is built on the idea of blocks.
It is not supposed to affect your existing content, but I cannot guarantee that will be true 100% of the time. (A WordPress site is just too complex to make that promise.) What I can say is that Gutenberg is intended to let you make new richer content, not force you go fix your existing content.
It looks like this:
Each paragraph of text,image, quote, or what have you, is treated as a separate block in the Gutenberg editor. This is a concept similar to what you would find in one of the aforementioned newsletter builders, although they do look very different.
Mailerlite and other services give you a limited selection of blocks to build a newsletter, and they usually show you the options in a panel on the right. Gutenberg, on the other hand, has a pop-up menu where you can select a block. You can open that menu by clicking the plus sign icon (see the screenshot above for an example) and then selecting one of the options.
Once you chose the next block, you can style it with settings that only apply to this one block, add content, etc. That custom styling is perhaps the biggest difference between Gutenberg and the existing content editor.
But you don't have to take my word for it; you can test Gutenberg itself.
If you want to play around with Gutenberg before installing it on your site, there is a public demo over on WordPress.org. If you want to try it on your site, you can install the Gutenberg beta app.
And if you would like to learn more about the options for styling blocks, Kinsta just published a post that goes into this in considerable depth.
Why
The why question I have heard the most in re Gutenberg is why Gutenberg is being added to WordPress.
The answer will vary depending on who you ask, but in my opinion it all comes down to a desire to give users a tool so they can make prettier blog posts and pages.
If we wanted to get into web industry insider gossip, someone would tell you that Gutenberg is a response to WordPress competitors such as Squarespace who already have this type of content editor. That has the ring of truth, but it's also true that the WordPress editor hasn't significantly changed since it was released in 2003. It looks and functions like a 20-year-old word processor app, and that outdated design limited what you could write and publish on a WordPress site.
The content editor was sorely in need of an update, but did it need to be replaced? Well, that depends on why you are using WordPress.
The typical blogger is fine with banging out paragraphs of text, but WordPress is much more than a blogging platform. It hosts all kinds of sites which are used for all types of purposes, and designers who are building those sites need the more sophisticated content editor.
While that sounds like a good justification, it is also true that those designers had their choice of sophisticated content editors; this type of tool is called either page builder or site builder, and there are a double dozen different competing tools to choose from. I use one from a company called SiteOrigin to build pages on this blog, and some of the more popular options include Beaver Builder, Elementor, and Divi.
This has lead some to argue Gutenberg is designed to fill a need that has already been met, but that debate is beyond the scope of this post.
How
The how question has two parts; how do you use Gutenberg, and how to do avoid it and keep using the old editor.
Gutenberg will be a part of WordPress 5.0, which will be released some time in the next few months. But if you want to use it now, you can install the Gutenberg beta plugin. Activating this plugin will replace the current content editor, giving you a chance to play with Gutenberg on your site.
Be sure to back up your site before you install the plugin. I don't think it will break anything on most sites, but I operate under the assumption that about 1% of the time things will go awry. We have no way to tell who is the 1% this time around.
If you never want to use Gutenberg, ever, you can install a plugin called "Classic Editor". This will guarantee that the current editor will not be replaced when Wordpress 5.0 is released.
O O O
I have installed the Classic editor, and I plan to regard Gutenberg as a project rather than a tool for the time being. I'll learn how to use it and how to support sites that use it, but I won't use it on my site. I'll wait until it is out of beta and is a reliable tool; then it will be safe to use.
image  by NYC Wanderer via Flickr