Happy 30th Birthday: 55 wishes + 6 longer messages for celebrating the big 3-0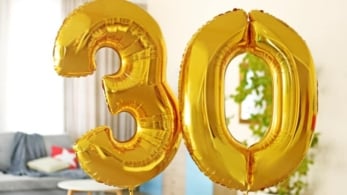 How about a change from the usual to wish someone a Happy 30th Birthday? We have put together an array of sayings and quotes for you so that you can flick through, find the right one and make your well wishes something special.
Milestone birthdays are often celebrated in a big way, and this includes 30ths. On such an occasion, it is especially nice if your greeting card or birthday message stands out from the crowd.
30th birthday wishes
Turning 30 is not a joyous occasion for everyone. Some people handle aging well, others rather poorly.
For this reason, it is important to always think about what kind of relationship you have with the birthday boy or girl and adjust your congratulations accordingly. We have put around 60 ways of saying Happy Birthday into different categories for you, so you can choose the right way to wish the lucky boy or girl well.
Unless specified otherwise, all the messages here are from unknown authors.
Cheeky 30th birthday wishes
These well wishes are cheeky yet charming. Most people will probably be able to laugh at a cheeky little message, but you should still make sure that you have the right personal relationship with the recipient. You shouldn't worry about what you write if you know a person well.
Intelligent, funny, charming, and sexy – you've got it all going on. Congratulations on your 30th birthday.
You're not 30, you're 18 with 12 years of experience.
Today you are approximately eleven thousand, one hundred and seventy five and a half days old! Now, 30 doesn't sound so bad, does it?
May your thirty be extra dirty.
Don't worry about turning 30. You'll get used to it. Of course, you'll be 40 by then.
The secret to staying young is to always be honest, eat slowly and lie about your true age.
Happy 29 + 1th! But seriously, you're going to have to come to terms with this eventually.
Most people will make fun of your age now. But not me! Because I do not make fun of old people.
Finally 30. Finally grown up!
Life before 30 is for making mistakes and life after 30 is for repenting for all of them.
Funny 30th birthday wishes
Before making fun of the birthday boy's or girl's age, make sure you don't spoil their birthday mood and that they understand your humor.
A short, funny message can add some comedy to your card or toast, but it should never stand alone – make sure you also acknowledge the seriousness of the occasion.
A birthday card should always include a few kind words or wishes for the recipient.
If you weren't my best friend, I would tell you how dreadful it is to turn thirty. But since you are, I don't want to spoil the party.
You're turning 29 again?! You freak of nature.
The countdown to your mid-life crisis has officially begun.
30 is the new 20* *said no one ever.
Relax, your 30s are just like your 20s, except you look 10 years older and everything is a little less fun.
Nothing changes when you turn thirty, except that you have to replace your moisturizer with anti-aging cream.
Whatever with the past has gone, the best is always yet to come.
(Lucy Larcom)
This includes accepting that you are now officially 30. All the best and wishing you peace and happiness for the year ahead.
Rather than complaining about getting older, instead you can be proud of the fact that you have already overcome three decades in this world! I'm proud of you and wish you a little more peace, joy, and lots of laughter on your 30th birthday!
My friends are getting married, moving to New York, or buying property … and me … I'm eating apples with the sticker still on. What a life! So don't let 30 get you down – we're still young and have all the opportunities in the world ahead of us. And if you're ever feeling blue, just think about my life and you'll feel better right away haha!
After your 30th birthday, you are officially closer to 40 than you are to 20.
Some heart-warming 30th birthday wishes
The following messages are beautifully worded, sound gracious and won't offend anyone, so you can't go far wrong with them.
No matter whose birthday it is – these 30th birthday messages are suitable for everyone.
Too old for the sins of youth and too young to be afraid of getting older: 30 is simply a great age, so I wish you only the best for the next year of your life!
You've grown into such a marvelous person – wishing you a happy 30th!
30 years ago today our family changed for the better. Happy Birthday!
Your 30th birthday can feel a bit strange, but just think that your youthful energy has been joined by a healthy bit of inner peace and a small pinch of dignity – then all will feel right with the world! Sending you a birthday hug – enjoy your day!
Three entire decades of you gracing us with your brilliance.
Happy 30th birthday to you! May all your wishes and dreams come true.
A beautiful fragrance is quickly gone, a colorful rainbow quickly faded, but still, these moments make us happy. These seconds can become an eternity in our memory. I wish you many such moments of happiness on your 30th birthday!
Think not only of what has been done, but what is still to be done. Happy birthday!
29 birthdays without me, but now we get to spend your 30th birthday and many more together creating new memories. Today is all about you – happy birthday beautiful.
I'm so happy we met and I can't wait to celebrate you turning 30 together!
Even at thirty years old, there's still a long way to go until you're no longer a child! Continue to preserve your fun, naive love of life! Stay curious, look for adventure everywhere, and let bad experiences spur you on rather than set you back! I wish you all the best on your further journey and firmly believe that you can achieve anything you dream of.
The first 30 years of childhood are always the hardest. Happy birthday to you.
Here's something to put a smile on your face: since time flies, 30 is now the new 20, and you're also lucky enough to still look exactly like you did when you were 20. Happy birthday!
I look forward to your birthday a little more each year, as it means I'll have known you longer and will know you better each time. I'm looking forward to celebrating your next birthday with you and I'm excited for what we'll get up to next. I wish you all the best for your 30th birthday!
Wishing you a fantastic 30th birthday, I feel blessed to have you in my life.
Weigh up for yourself the best way of congratulating the birthday girl or boy. Whatever you opt for, everyone will be happy to receive one of these messages. Use them to complement your own well wishes, write them on a gift tag, or even recite them as a toast.
Wise life quotes for celebrating 30
The wise quotes below are wonderful for sharing on anyone's birthday. They are little pearls of wisdom about life that you never grow tired of hearing and they echo the most important moral principles.
Send one to the birthday boy or girl to wish them well and give them advice. Perhaps you even have a life motto or discover it here, and you can make this your birthday card trademark.
Age is a case of mind over matter. If you don't mind, it doesn't matter.
(Mark Twain)
With mirth and laughter let old wrinkles come.
(William Shakespeare)
Let us never know what old age is. Let us know the happiness time brings, not counting the years.
(Decimus Magnus Ausonius)
May you live as long as you want and never want as long as you live.
(Irish Blessing)
If we could be twice young and twice old we could correct all our mistakes.
(Euripides)
And in the end, it's not the years in your life that count. It's the life in your years.
(Abraham Lincoln)
Live not one's life as though one had a thousand years, but live each day as the last.
(Marcus Aurelius)
Youth is happy because it has the ability to see beauty. Anyone who keeps the ability to see beauty never grows old.
(Franz Kafka)
Our birthdays are feathers in the broad wing of time.
(Jean Paul)
The first forty years of life give us the text; the next thirty supply the commentary on it.
(Arthur Schopenhauer)
This means that you're still writing your own story – make sure you go on some exciting adventures in the next ten years!
It could be especially nice if you write something to accompany your chosen quote, and you could even explain how you understand the quote and what it means to you and your life.
Why not wish the recipient all the best for the future or share a little about your own life? Not only does writing a personal message make your card more interesting than sticking with the usual pleasantries, but opening yourself up is also a nice gesture that most probably wouldn't expect.
Rhyming 30th birthday wishes
These rhymes are like poems, except that they are not as formal or fancy. Written in verses, they are also very nice to look at when written inside a birthday card.
If you want to go the extra mile, you can even center them by drawing a line down the center of the card in pencil for guidance and erasing it afterwards.
Life is an adventure before your bones start to creak
At 30 you're young, you haven't started to reek.
So take life by the horns, you've still ways to grow.
When adventures await, take it by the horns and go!
Come one come all come celebrate you, today is a day all just for you.
Your 30th birthday we hope is all grand,
Enjoy this day for it is just the beginning of an adventure that lasts the rest of your life.
Happy Birthday dear man, enjoy all your plans.
Your age is just a number,
It's not that big,
You have seen a few decades,
Since you were just a kid.
But you don't look your age,
You beat the middle-age spread,
Your face glows like a thousand stars,
And you can still turn heads.Congratulations on your 30th birthday!
I wish you 30 million dollars, 30
different houses of yours. 30
different books are written by you, 30
different cars, 30 different cakes, 30
thousand gifts, 30 lovely dresses,
30 different awards. This is because
you deserve this much on your special 30th birthday.
Today is a day to remember
As you turn thirty today
Gone are the wilds of your twenties
It's time to be flirty they say
Let's have a party to celebrate
This new decade of flirting and fun
But don't overdo it and remember
Next year you'll only be 31
Enjoy being 30! Happy Birthday
(Unknown)
It's rare to find
A true friend like you,
All around the world
There are but a few!
All the best for your 30th birthday!
Roses are red,
Violets are blue,
It's your 30th birthday today,
And sister, I love you!!!
The first 30 have succeeded,
let a song be sung on it.
And also in the next wish year plan
your verve will guide you.
You will continue to succeed in everything
and we will sing again.
Here's to the next 30!
From our birthday, until we die,
Is but the winking of an eye.
(William Butler Yeats)
My heart is like a singing bird
Whose nest is in a water'd shoot;
My heart is like an apple-tree
Whose boughs are bent with thickset fruit;
My heart is like a rainbow shell
That paddles in a halcyon sea;
My heart is gladder than all these
Because my love is come to me.
Raise me a dais of silk and down;
Hang it with vair and purple dyes;
Carve it in doves and pomegranates,
And peacocks with a hundred eyes;
Work it in gold and silver grapes,
In leaves and silver fleurs-de-lys;
Because the birthday of my life
Is come, my love is come to me.
(Christina Rossetti)
It could also be nice to perform or even sing some of these rhymes. If you want to do something surprising, why not send the birthday boy or girl a voice note on WhatsApp with you reading or singing your chosen lyrics.
Another option for rhymes is to include them in a little birthday toast. They are especially easy to remember because of their catchy melody.
If you haven't found the right one among these sayings, you might find the right happy birthday wish in this article.
Happy 30th Birthday – an important milestone
Every decade that passes is a new milestone in life, bringing with it new experiences and different stages of life. For example, many start planning a family at 30 – or even beforehand. Some academics may also just land their first real job around age thirty.
It's important that you don't mention any life goals that the birthday girl or boy can't identify with in your birthday wishes.
Even if birthdays themselves are a beautiful occasion, not everyone can handle their new milestone age. Sensitivity is required, and this should also be reflected in how you say Happy Birthday.
So you should adjust what you write or say depending on how well you know the birthday boy or girl, and not go too far out on a limb, for example, by opting for a funny or cheeky quote for an acquaintance.
Longer 30th birthday messages
Below we have six sample messages for you that you can either use as they are, as a template or to give you some ideas of your own. They also serve to give you an idea of how different birthday wishes can look depending on the relationship you have with the recipient.
Some of these messages are a combination of a saying with some longer text. If you first choose a saying, it can come in handy as a great source of inspiration and you can use it as a base for writing the rest of your 30th birthday wishes.
Just choose one you like from our list and write it in your birthday card.
Wishing a happy 30th birthday to a friend
1)
Dear Mary,

You are now in the prime of your life, beautiful, healthy and full of energy. You've also been able to gather some life experience, so that not much can shock you and you know what you're doing – the perfect mix!

I wish you all the happiness in the world for your 30th birthday and I hope you have a fantastic day.
2)
Dear Marc,

School and uni are over, you've found a steady job and your income is reasonably stable, you're taking, or have already taken, the first steps towards starting a family, and your life is slowly becoming more stable. But this doesn't mean it's boring by any means!

Now that life is getting a little quieter, it's up to you to create spontaneity, new adventures and exciting experiences! Enjoy this time, because it is your springboard for reaching for the stars. Happy 30th birthday and I hope that this next decade of your life brings you happiness and excitement, from the bottom of my heart!
Wishing a happy 30th birthday to your sister
Dearest sister,

The best weapon to combat ageing is your inner child – and I know it well enough! So be happy, exuberant, crazy, playful and silly today and throughout the next year of your life. Have fun and I hope you have a ton of laughs on your 30th birthday.

I love you
Birthday wishes for your brother
Dear brother,

A birthday is a good opportunity to look back on the past year and set yourself some new goals. Your 30th birthday is a very special one: not only have you already accomplished a lot in life, but you are now on the verge of living a real adult life and planning your future.

I wish you all the best and I'll always have your back for all the decisions you make.
Wishes for your daughter/son
Dear Sarah,/Dear Tom,

Even though you've turned 30, you will always be our child, who we want to love and protect. And don't worry: you're just as young today in your thirties as you were yesterday in your twenties! And if you're looking for confirmation, all you have to do is look in the mirror.

But still, one thing has changed overnight: turning 30 has made you more conscious, and now this quality will not leave your side. From now on, you can enjoy life more consciously, experience happiness more consciously and take in every moment more consciously! This is the most wonderful gift you can wish for.

Happy 30th birthday from Mom and Dad
30th birthday wishes for an acquaintance
Dear Marcus,

For your 30th birthday I wish you happiness, health and success, and I hope that all your wishes come true. Have a great day and have fun.