KDP Print – Amazon is Beta-Testing a Combined Kindle and POD Dashboard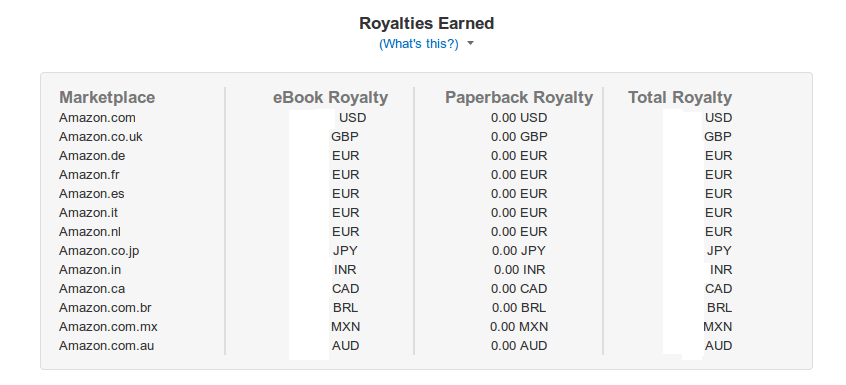 For the longest time Amazon has offered two distribution platforms for books. Publishers could use KDP to sell ebooks in the Kindle Store, and they could use Createspace (and before that, Booksurge) to distribute POD books.
Now Amazon is testing a combined interface where publishers can manage both their ebooks in the Kindle Store and their POD books in Createspace.
The new feature is called KDP Print, and according to the comment thread at KBoards this feature has been available to a limited number of KDP users since July 2016.
Comment threads on the Createspace and KDP support forums confirm that  most users don't see new feature, but there is also a report on Self Publisher Bibel that users are seeing the option in Germany. That suggests that the testing has gone international.
Details are still scarce, but what we know now is that users can generate sales reports in KDP which cover both their print and digital books.
The following screenshots were made by Emily Martha Sorensen:
Amazon is trying to keep this program under the radar, so we don't know much at this time. The retailer has published a couple KDP help pages with more detail, but those pages can only be viewed by eligible users.
If you can see them, congratulations; you can use the new feature.
We know from the KDP Support Forum discussion that the new feature is less about tying a publisher's existing POD and Kindle books into one interface than about getting KDP users to create print editions of their existing titles.
There's no mention in the public discussions of importing data from Createspace or tying in an existing account, but KDP users are invited to upload a new file which will be turned into a POD book. PDF is preferred, but doc, docx, html, and rtf are also accepted.
It does not appear, however, that Amazon is automatically converting existing Kindle ebooks, and that is a good thing – they would look like crap.
O O O
When this program more widely available, it has the potential of upsetting POD and the print book market.
Amazon has long offered a POD service through Createspace, and in fact they will also distribute your Kindle ebook from a Createspace account. But as we know there are many authors who have only produced ebooks and have previously passed on print due to the hassle, low sales,  and the fact that key genres (romance, thriller/mystery, and SF) have largely gone digital.
This new feature in KDP will make it easy for authors to produce a POD book, get it onto bookstore websites, and possibly even get it into Walmart stores.
This has the potential of disrupting the print book market by injecting millions of new titles. If authors thought it was hard to get their book on to store shelves last year, just wait – the competition is about to multiply.
But will it generate a huge amount of sales?
POD books are considerably more expensive than most paper books. That will reduce demand, but a small number of print books sold is still an improvement over none at all.
Plus, KDP Print will encourage authors to release their books through more channels than just the major ebook stores.This gives them a chance to reach more readers, in particular the ones who are sticking with print.