Kindle Voyage Ships Today, Also in Stock at Best Buy.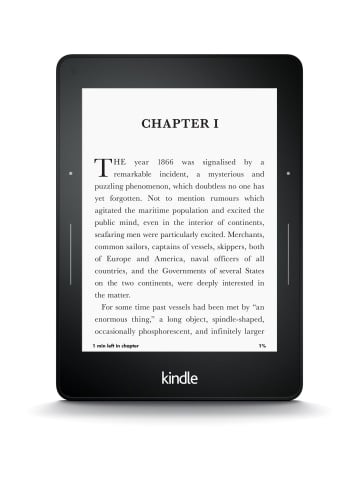 Amazon's newest ebook reader is arriving today on the doorsteps of the lucky few customers who got their orders in early, and for the rest it will be arriving either next week or next month.
The Kindle Voyage got mixed reviews from the early reviewers, but even before those reviews came out this ereader was back-ordered on Amazon.com. The current expected ship date is some time in November, but that doesn't mean you have to wait days or weeks to get one.
Don't tell anyone I told you, but the Kindle Voyage is in stock at Best Buy. A call to my local BB store confirmed what the website told me: the Voyage is in stock and can be bought today.
Unfortunately, I don't think you'll be able to order one online; I tried several times and the website did not cooperate. But I do have confirmation that they're in stores.
So will you get one?
When the Voyage launched I was put off by the price, and I haven't been terribly impressed with the review unit which Amazon loaned to me, but if I were in the market I would check my local BB store.
Best Buy doesn't have customer service half as good as Amazon's, but it does offer a 2 week return policy on ereaders. That's enough time to try the Voyage and return it if it doesn't suit you.
P.S. Let me know if you get one. I'd like to know if I am the only one who had issues with the page turn buttons.