New Hack Enables Fast Refresh Mode on Nook Touch (Video)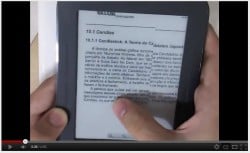 Mike Cane turned up the following video on Youtube, and it's going to blow your mind. A hacker over at the XDA forums has figured out a way to enable a fast refresh mode on the Nook Touch.
The image at right isn't a video error, nor is it display bug. The Nook Touch is refreshing so fast that half the screen is left behind.
It's so fast that you have to see it to believe it.
If you ask me, that is faster than the Sony trick I showed you a month ago. It's even faster than anything that Bookeen has shown us.
What's even more amazing is that you're looking at a standard hacked Nook Touch.  Anyone with a hacked NT can install the code that makes it possible. You can download the install file over at XDA forums.
You know, we're almost at the point where you can watch video on a hacked Nook Touch. I cannot wait to see it.