New Leaks Show Kobo Aura H2O Coming 1 September, Will Cost $179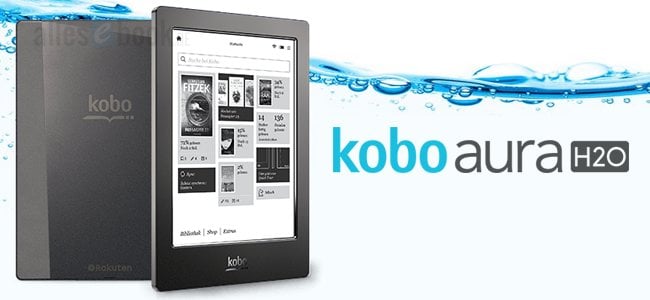 When Kobo's newest ereader cleared the FCC last week I knew it was going to be one of the more interesting ebook readers to launch this fall, and now that the specs have crossed my desk I can see that I was right.
The Kobo Aura H2O is not only going to be the largest and most capable waterproof ereader on the market; it's going to be the first to sport a new 6.8″ E-ink screen (reportedly).
Like its predecessor, the Kobo Aura HD, this ebook reader will be running Kobo's proprietary reading software on a 1GHz CPU with 4GB internal storage. The Aura H2O will have a frontlight, infrared touchscreen, Wifi, and a microSD card slot.
Weighing in at 233 grams, the new device will be slightly lighter than the Aura HD. It's also going to be slightly thinner; looking at the image above I would guess that Kobo lopped off the weird protrusions from the rear of the shell. According to what I was told it's going to meet the IP67 standard for water, meaning that it is expected to survive being dunked in a meter of water for up to 30 minutes and that it is dust proof.
The Kobo Aura H2O is expected to go up for pre-order on 1 September, with a retail of $179. All in all I am looking forward to this device, and I haven't even gotten to the best point.
If the spec sheet is to be believed, the Kobo Aura H2O will have a brand-new 6.8″ Carta E-ink screen. With a screen resolution of 1430 x 1080, it will be ever so slightly less sharp than the screen on the Kobo Aura HD, but it will make up for the lost rows of pixels with a faster and better screen refresh rate.
Bestill my beating heart.
Somehow, Kobo has managed to scoop Amazon for the second year in a row. Last year Kobo got the 6.8″ E-ink screen first, and this year Kobo is (probably) going to get the new 6.8″ Carta screen first.
That leads me to wonder why Amazon is letting it happen, and I can give you three guesses:
Liquavista
Liquavista
Liquavista
I think Amazon is passing on the larger screen because they want to move directly to using a Liquavista screen – possibly the hybrid screen detailed in the patent I discovered a couple weeks ago.
Now that would be fun, would it not?