Review: Shift3 Lookbook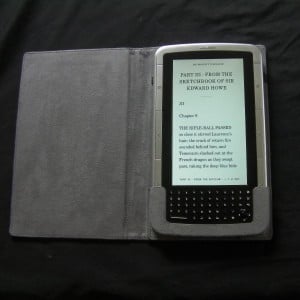 I'm looking at my Lookbook right now, and the words "squandered potential" come to mind.
I first heard about this ereader from the internal CVS docs that someone sent to Engadget. I've been quietly waiting for it to be released, and I got mine about a 2 weeks ago. It's a Kindle clone based on a 7″ LCD screen, and I've covered the physical description in detail in my previous post.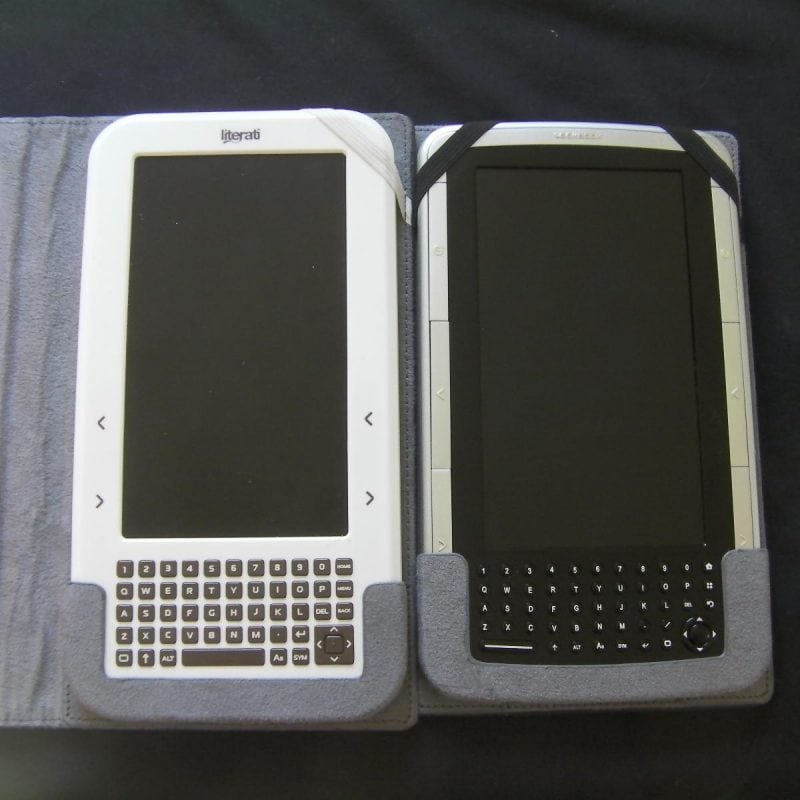 Before I get into the review, it's important for you to know that the Lookbook is a close relative of the Literati that we reviewed a several weeks ago. It has the same Kobo reading app and ebookstore access, so it shares a lot of the same shortcomings with respect to formatting, margins, etc. But one difference is that the Lookbook has page turn buttons instead of the Literati's swipe pads. I like buttons; they're  a heck of a lot easier to use.
I actually like how the Lookbook is designed, and if not for the poor reading experience, many debilitating bugs, missing web browser, and difficult joystick, I would recommend this devices to anyone. To be exact, I think it sucks as an ereader but it has potential has a MID. I think there's a market niche for an MID that looks like a Kindle clone, and if the Lookbook had the right software it would fit in that niche.
Unfortunately, the Lookbook is crippled by a SD card bug similar to the one found on the Literati, so I can't load my own ebooks. It also can't find ebooks that I've copied to its internal Flash storage. This is a pass fail for me.
The Lookbook also shares the wide margins, limited font choices, and poor formatting found on the Literati. But do you know what's really odd about this? I checked and the Kobo iOS app doesn't have the same problems; it showed the ebooks as made by publisher. So I really have to wonder why Kobo handed over the crippled reading app. I suppose there was nothing better, but if that were true then I wouldn't have released the app.
BTW, there have been a couple requests in the reviews of the Literati that I discuss how color image look on the screen. I can't. The ebooks I get from Kobo don't have pictures, and I can't load my own. The cover images are often in color and they look nice, but without other images I really don't care.
Battery life was disappointing; it only lasted 4 days between charges. The really bad part is that I didn't use it much, so it was in sleep mode most of the time.
One last problem that the Lookbook shares with almost all Kobo reading apps is the slow loading of ebooks. that isn't a bug they can fix; it's unfortunate consequence of how the reading app was designed.
The ebooks you buy from Kobo aren't stored on the ereader as Epub files. Instead, they're all crammed into a SQLite database. The ebooks are slow to load becuase first they have to be extracted from the database.
If you're wondering why they did this, well, it probably seemed like a good idea at the time. It let Kobo get around the $75k per device license fee that Adobe charge for Adobe RM. Yes, that's a nice chunk of change they saved, but in exchange Kobo inflicted a worse reading experience on us all. I don't think that was a good trade.
Opinion
I'm almost tempted to keep the Lookbook. It's a poor ereader for $149, but I really want to see what happens once hackers start messing with the firmware. Give this device a decent reading app (FBReader) and a web browser and it would be a serious competition in the ereader market.
Update: The Lookbook is now available at Overstock.com for $123. This doesn't change my mind about it as an ereader, but the price is tempting.