Review: Next2 e-reader

I finally got my hands on one of the Next2 ereaders I showed you a couple months ago. This is a pretty decent ereader, and it was slightly better than I expected.
Read on for my review.
Hardware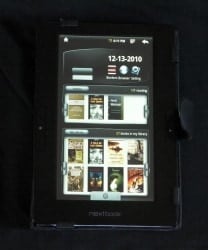 This is a minimalist ereader based on an Android tablet. It has a 7″ (800×480) resistive touchscreen, 2GB Flash, a SD card slot, Wifi, accelerometer, a headphone jack, and 2 page turn buttons. It runs Android v1.5. It ships with a reversible case, USB cord, and power supply.
You can't swap the page turn buttons, but I didn't find that to be such a problem. And TBH, I'm pleased just to have the buttons. I have the feeling that this was a hybrid design. They took a tablet and changed it just enough to make it a usable ereader.
The resistive touchscreen is the good kind (trust me, there's a difference) and I thought it was easy to use and more responsive than some I've had my hands on. This tablet lacks the 3 standard Android buttons, but that's okay. They're on the taskbar at the top of the screen.
Apps
Since the Next2 runs v1.5, you will have trouble installing apps. So it's good that it ships with certain basics such as a file manager, web browser, email, an app store, as well as a Youtube app. All are the basic apps you'd find on any Android tablet and they work fine, with the exception of the Youtube app.
Update: The Next2 got a firmware update early this year. Current models should be running Android v2.1, a much newer version of the OS.  it should be a lot easier to find and install apps.
As you might know, the Youtube app for Android can't play all Youtube videos. But this one might be kinda funky. I've searched for my standard test clips and I can't find them. This is rather odd. I've found them with other versions of the Youtube app, so I really don't know why they don't turn up on the Next2.
The app store is one I've seen before. It's okay, but it's one of the smaller stores and the selection isn't very good. It also doesn't help you screen for compatible apps.
Sidenote: if you're interested, one of my test videos on Youtube is "High on Firefly". I use it for an audio test because there is one particular word that poor speakers will screw up. Play the video and listen for the line "he lives by one law – Murphy's". If the last word sounds like "herpes" then the speakers are poor quality.
Video & Audio
It ships with video and audio players, yes. I don't have the hearing to judge audio, but I watched the included  clip and it was shown full screen at 30 fps without dropping any frames. For a budget tablet, that is impressive. But then I played a couple clips I shot myself. The Next2 can't handle MOV 720p at 30fps.The video and audio don't stay in sync.
I don't expect it to play full screen, but I think it should at least be able to handle the file and gracefully downgrade it. I have other tablets that can do that much.
Reading Experience
The Next2 is tied to the Borders ebookstore, and the registration process is a pain. They want me to enter my Adobe ID, which tells me that this isn't using the borders/kobo app, just the Borders ebookstore. Fortunately, you don't have to have a Borders account to read your own ebooks.
Sidenote: I usually don't bother to authorize my ereaders. I will do it sometimes in order to make sure a particular device can or if I'm helping someone troubleshoot. But it's generally too much of a nuisance. As a rule I download an ebook and strip the DRM right away. It's much less hassle to just get rid of it right away. DRM is a pain in the ass.
The only annotation option is bookmarks, and the only font option is font size (5 sizes). But it does at least have TOC support and a jump to page option.
Page turn speed was okay for both Epub and PDF (when not in zoom mode). When you zoom in on a PDF, page turn is quite slow. But on the upside you can use the touchscreen to scroll around each page of the PDF.
The Next2 can't reflow PDFs, only zoom. This isn't much of a problem for a 7″ screen, but the Next2 also can't crop the PDF (remove the white space around the edges). That is a shortcoming, because on 7″ screen the standard PDF is quite readable if you can crop it.
Opinion
All in all, I'm rather pleased with this ereader. It's comfortable to hold and page turns are reasonably fast. But it's also rather heavy, and I'm concerned about the battery life when it's left in standby. Be sure to turn off the Wifi when you're not using it. I didn't and the Next 2 kept trying to stay connected to my home network (even though it was in sleep mode). This drained the battery in only a few days.