Rumor: New Kindle Paperwhite to Gain 300ppi Screen Next Spring
Techcrunch is
reporting that they have seen a prototype of the next Kindle Paperwhite:
 The marquee feature of the new device is a high-resolution 300 ppi screen that will bring the company's e-reader displays back into technical parity with devices from competitors like Kobo.

In addition to a higher resolution screen, the new Paperwhite will be getting a few more hardware improvements. We've seen a prototype of the device which has a front screen that is flush with the edges of the device, rather than recessed, and is made out of very matte glass of some sort, not plastic. Despite moving to glass, the new units are said to be lighter than this year's models.
The device is reportedly code named "Ice Wine", and it is going to launched sometime in the second quarter of 2014 (assuming nothing goes wrong).
There's no word on the screen size, but I can point out that the new screen is going to increase the sharpness from 212 ppi on the current Kindle Paperwhite to over 300 ppi. That is a sharper screen than on the Kobo Aura HD, which comes in at 265 ppi.
If this part comes to pass then the new Paperwhite will have to cost considerably more than the current model. That higher resolution screen is going to require a higher resolution backplane, and that will cost more to produce. This could result in a premium priced Paperwhite which would be sold alongside the lower cost current model.
On a related note, the higher cost of higher resolution screens is part of the reason why so many ereaders have an HD E-ink screen with a resolution of 1024 x 758. That is a stock size offered by E-ink, which means it is already being mass produced and thus cheaper than a higher resolution screen would be.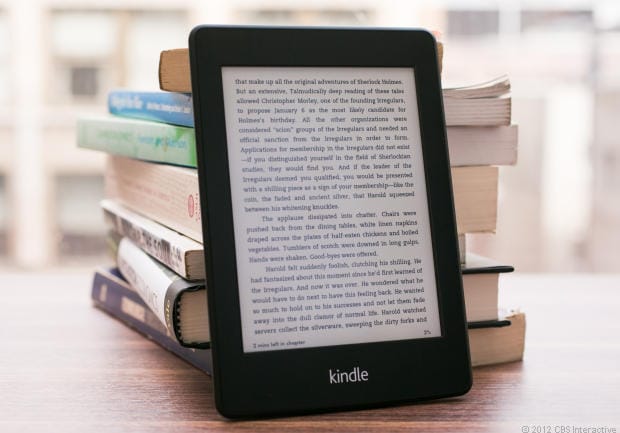 The new device is reportedly going to have a new shell which looks like the back of the Kindle Fire HDX, and a new power button on the back. It's also going to have page turn buttons.
Yes, Amazon is going to go against the design trend embodied in their last 3 touchscreen-equipped Kindles. The new model will have page turn buttons similar to that of the Nook Touch; the buttons will be flush with the case and be "squeezable".
There's also a report that the new device will have a new font and improve typography, but I'm not going to put much weight into this claim. Apparently whoever wrote this post for TechCrunch knows very little about Amazon's ongoing efforts to improve typography, because he wrote:
Typography has long been one of the Kindle's big failing points.
Yeah, so the improved fonts and improved typography that Amazon has debuted with the 2012 Kindle and other Kindle launches is all crap? Not in comparison to other ereaders on the market or what was possible 5 or more years ago, no.
Update: I need to correct myself. It seems I was the one not keeping up on the latest opinions of typography experts, because a number of them do think the Kindle fails at typography. Needless to say, I don't agree.