Sony Reader PRS-T3 Still Not Available in the US Two Weeks After it Launched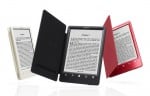 Ever since Sony officially announced their new ereader a couple weeks ago I have been waiting with bated breath for news on when I would be able to buy it here in the US.
I'm still waiting.
In spite of the fact that the new PRS-T3 is already in retail channels in Canada, UK, and Europe, and in one user's hands in Spain, there still has not been any announcement about a launch in the US.
What's even more interesting is that Sony won't make any promises about any plans to launch the T3 in the US. I checked on the day this ereader launched, and I was told they don't speculate. Naturally that has me quite puzzled.
Sony has long had a reputation of going against market and industry trends, but this is a new one for me. In 2011 Sony downsized from 3 ereaders to a single model at a time when Amazon and everyone else was launching multiple models. And then in 2012 Sony basically relaunched a less capable version of the year-old PRS-T1 as the PRS-T2 (no sound) when everyone else was launching improved ereaders with more features and better specs. And now Sony has decided to forgo a US launch.
I don't understand why. It can't be because of FCC certification; that happened months ago. I know that Sony is more interested in selling ebooks on their smartphones than in selling ereaders, but this is still a strange move. It's one thing to lack interest in a market but something else to simply ignore it entirely.
Sony might not have much of a ebook or ereader market share in the US but that's no reason to simply ignore the market, is it?
via my competition