The Freewrite Traveler is the True Spiritual Successor to the Alphasmart Neo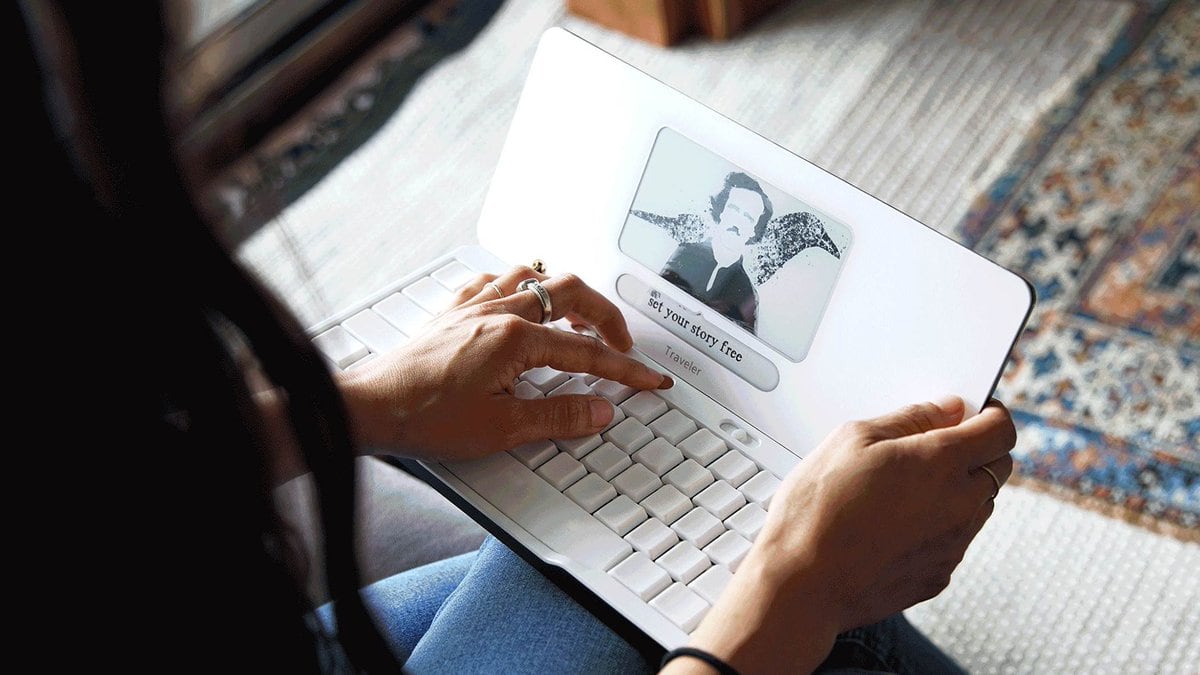 Over the past several years I have written about several E-ink laptop concepts that might one day make good writing tools. None have gotten past the concept stage (not even the Onyx Writer) but that is about to change.
I just got an email from Astrohaus, makers of the Freewrite hipster typewriter, announcing their new, smaller, distraction-free writing device.
Folks, meet the spiritual successor to the venerable Alphasmart Neo:
The Freewrite Traveler is a netbook-sized device that fixes many of the shortcomings of the 3-year-old Freewrite. The Traveler weighs less than half of the Freewrite, is promised to cost half as much, and folds into a compact clamshell.
Where the Freewrite only counted as portable if  your goal is to be seen lugging its heavy aluminum mass around, the Traveler is small enough that you could conceivably slip it into your backpack next to your laptop.
It functions essentially the same as the Freewrite, though; both devices are strictly writing devices. They don't have any apps, and the Freewrite doesn't even have an editing feature or a way to transfer files via USB. Instead, your work is synced over Wifi to your cloud accounts (Dropbox, Evernote, Google Drive supported).
Astrohaus has been showing off the Traveler since about March, but I don't think it's gotten much media coverage yet. I can't find any videos or blog posts, or much in the way of photos.
It is officially launching on Tuesday, so the dearth of coverage will probably be resolved by tomorrow.
BTW, the Freewrite costs $500, so the Traveler should cost $250.
What do you think of the design?
In form it reminds me of the  netbook that Palm tried to launch a decade ago. That device never reached the market because Palm realized they had already been beaten by netbooks running Windows.
In function, this reminds me of the Alphasmart Neo. Released in 2004, that was one of the last in a line of classroom writing devices from Alphasmart. The Neo was little more than a keyboard with a small LCD screen – just enough hardware that you could bang out a paper, but not enough that you could play games on it.
A lot of us have fond memories of Alphasmart or one of the several devices that stepped into its niche; how do you think the Traveler will compare to them?