A Look at B&N's first eReader
Do you recall the obituary I wrote for the Ebookwise-1150? The ereader  above next to the K3 is the Rocket eBook and it's the grandaddy of the 1150. I thought it would be interesting to show you the oldest best ereader.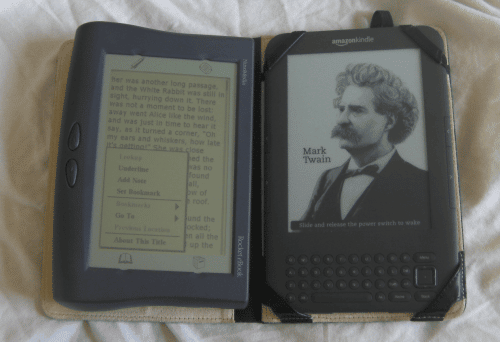 It was released in 1999 by a small company called Nuvomedia and sold through Barnes & Noble, and ebooks were only sold on the B&N website. It has a 5.4″ screen (320×240), which was huge for those days. You could load content over a serial (not USB) cable onto the 4MB or 16 MB of Flash storage. It did not have a card slot.
The Rocket eBook shipped in an odd shaped retail box, which I'm sure was a marketing decision (it appealed to my mother, an engineer/geek). The box came with a docking station, serial cable, power supply, stylus, screen cloth, and a very nice zipper case. it also had a driver CD and it referenced a support website (now defunct).
It read its own RB format, and in terms of features it was quite capable for the time. You could underline, bookmark, change font size, and add notes. A properly crafted TOC usually worked, too. The Rocket eBook could be oriented to all 4 directions and you could even calibrate the screen.
This ereader never amounted to much, but it did spawn the EBW-1150, which managed to hold on for 6 years.
P.S. Nuvomedia and another company called Softbook were bought in early 2000 by Gemstar. Gemstar used the design of the Rocket eBook to develop 2 of its ereaders, the GEB-1100 and the REB-1150 (later rebranded as the eBookwise 1150). The 1100 and 1150 look largely identical, and they bear a distinct family resemblance to the Rocket eBook. Softbook was acquired by Gemstar in 2000 so that its ereader, the SoftBook Reader, could be developed into a couple new ereader models.