Amazon to Launch New eBook Subscription Service Called Kindle Unlimited
Word is circulating on Twitter and the KBoards forum  today that Amazon is about to launch a new ebook service.
Update: Kindle Unlimited went live on Friday.
Details are still vague, but at this point I know that about 6 hours ago several authors noticed that there was a new page in the Kindle Store. That page was shortly taken down, but while it was up it was titled Kindle Unlimited, and it offered readers access to a catalog of 600,000 ebook and audiobook titles for $9.99. Thanks, Zara!
Update: Actualitte has screenshots which confirm Kindle Unlimited, including:
Just to be clear, I'm not talking about the Kindle Freetime Unlimited service which Amazon launched in September 2012. That is a different service which offers a kid-safe selection of apps, videos, and ebooks. KFU is only available on Kindle hardware, and it costs $2.99 a month and up.
Update: Here's the promo video for Kindle Unlimited:
You can find the Kindle Unlimited page here. There's nothing to see at this time, but if you click through I want you to look at the search bar at the top and note the letters "KU" as the dept. That confirms the reports, I think.
Update: If the page did show something it would probably look like this: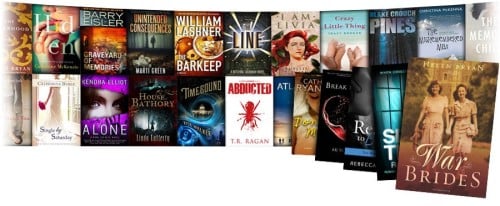 I'm still waiting for comment from Amazon, but at this point it looks like Kindle Unlimited is an expansion on the Kindle Owner's Lending Library which will be made available to all Amazon customers (KOLL is a free benefit for Prime subscribers only, and is bundled into the $99 a year cost). At launch Kindle Unlimited will likely be limited to the US.
A number of authors on KBoards have confirmed that the titles they submitted to KDP Select had been added to Kindle Unlimited, and not just KOLL. There is also a report that the sales reports on the KDP admin pages now includes a mention of the Kindle Unlimited service, which apparently is going to be counted in combination with KOLL revenues.
Speaking of revenues, that is another question we cannot answer yet.  Kindle Owner's Lending Library pays indie authors from a pool of money based on the number of times their books have been borrowed. The pool for July is $1.2 million.
Update: There is now confirmation from Scholastic that their titles will be included in Kindle Unlimited under the existing contract they negotiated with Amazon.
As with KOLL, Scholastic will get paid their full wholesale price every time one of their ebooks is opened by a Kindle Unlimited subscriber.
It's possible that Amazon will expand the pool, but this still raises questions. Prime members can only borrow a single title a month from KOLL, but clearly that limitation will not apply to the Kindle Unlimited service.
In order to compete with services like Scribd and Oyster, Kindle Unlimited will either have to be a lot cheaper or offer similar unlimited reading. Both Scribd and Oyster offer a buffet-style reading experience for $8.99 and $9.99 a month, and they boast catalogs of 400,000 and 500,000, respectively.
If Amazon is launching a direct competitor to Oyster and Scribd then Kindle Unlimited will have to be truly unlimited.
Update: GigaOm found an active test page for Kindle unlimited, and it looks like I can now confirm that this service expands beyond indie titles.  Many publishers who have signed with Oyster and Scribd are also showing up on the test page, including Scholastic, HMH, Open Road, Workman, WW Norton, and Bloomsbury, as well as titles from Amazon's own imprints.
I have yet to find titles from S&S or HarperCollins, both of which have deals with Scribd and Oyster, but there are also 7300 audiobook titles listed.
I will update this post as I get more details.