Amazon now offering a free teaser subscription to Fantasy & Science Fiction Magazine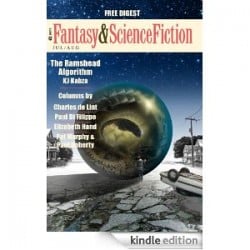 Today the digital drought ends for the Fantasy & Science Fiction Magazine. Amazon just announced that the title is now available as a Kindle exclusive. And to celebrate their new exclusive, Amazon are currently giving away subscriptions to a sampler section of the magazine.
I actually had to read this a few times before I figured out what this was, but apparently it's not the full magazine. This teaser sub includes the nonfiction content, 1 full story, and summaries of the rest of the stories.
They don't call it a teaser, but that's what it is. Still, free is free.
Of course, the surprising bit of news here is how long this took. F&SF pulled their digital content from Fictionwise back in April. It's been over 3 months since they have sold any digital subscriptions. This being a sci-fi magazine, I'm sure that hurt their finances.